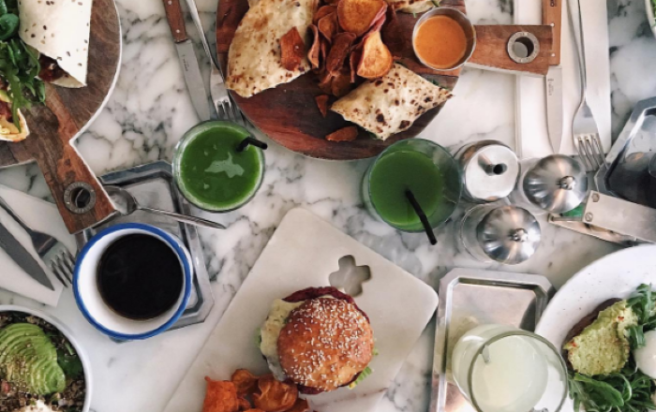 In Paris, brunch is usually served only on Sundays and cafes and restaurants tend offer one option including all the food and drinks.
Some places work differently and don't require you to get the whole meal deal so check beforehand if you don't necessarily want to spend 25 quid in one go.
As you would assume, brunch is quite popular in Paris so queues can be quite frightening if you show up to a trendy place at 1pm on a Sunday. But most of the time, the food is worth the wait! Here is our pick for the best places to go for brunch in Paris.
1. Café Marlette
Prepare yourself for a bit of waiting as Café Marlette is a very popular spot to get a delicious Parisian brunch. Coffee, juice, granola, cheese, ham, eggs, fresh bread, cake… for 25 euros you will be fed for the day (that's if you manage to finish your plate). This café also offers a range of cake mixes that are better than any homemade one so grab a couple boxes while you are there.
51 rue des Martyrs, Paris 9 and 63 rue du Faubourg Poissonnière, Paris 9
2. La Recyclerie
Built from recycled good which makes it look like a Pinterest board, this unique spot is ideal during a sunny day as you can enjoy your brunch plate outside, sitting by some old train tracks that are not in use anymore. La Recyclerie often hosts charity thrift sales at the weekend to the delight of all vintage lovers.
83 boulevard Ornano, Paris 18
3. Uptown
Located near Montmartre, Uptown serves a gourmet brunch in a lovely casual atmosphere. If you can't make it for brunch, this place also offers delicious small plates for dinner, ideal to share and try some absolutely fabulous French food.
18 rue Francœur, Paris 18
4. Paperboy
This small hipster café is worth a visit almost as much for people watching as for the food. On this menu influenced by American and British cuisines with a healthy twist, everything is delicious, fresh and homemade.
137 rue Amelot, Paris 11
5. Clint
Eggs, burgers, salads, homemade cakes, waffles, milkshakes… It will be hard to chose what to order from Clint's tempting brunch menu!
174 rue de la Roquette, Paris 11
6. Season
This healthy and trendy spot covers all the most instagrammable food you could think of, from avocado toasts, to pancakes, acai bowls, burgers and salads. So if you fancy a tasty meal that will definitely score a few likes on the gram, you know where to go!
1 rue Charles François Dupuis, Paris 3
7. Le Trésor
Parisian are usually a bit wary of all-you-can-eat buffets as they tend to be a sign of lower quality. With its scrumptious yet refined food, Le Trésor is an exception to the rule. From croissants to fresh breads, hot dishes, eggs, cold meats, seafood or homemade cakes, you will enjoy the all-you-can-eat policy until the last bite!
8. BüL & bar à cannes
If you feel like a healthy and yummy brunch, BüL is the place to go. This small eatery offers gluten-free and mostly vegetarian options that won't make you feel like you are missing out on anything.
20 avenue Trudaine, Paris 9