It's been years since we have had a quality, entertaining and not completely cringeworthy Christmas movie.
And I can happily announce that the wait is over…
Today The Christmas Chronicles is on Netflix and it is everything we hoped for in a feel good holiday film.
Can you believe that it's been decades since the release of our favourites like The Santa Clause (1994) and How the Grinch Stole Christmas (2000)? That really was the golden age of Christmas movies.
The Christmas Chronicles tells a modern holiday story, following the life of a family after they experience a tragic loss.
Struggling with inner turmoil and teen angst, Teddy is on track to a life on the naughty list. But after he helps his younger sister Kate and Santa save Christmas, he discovers the extent of his true potential.
The siblings don't get on how they used to since Teddy became a teenager and are forced to work together to keep the holiday spirit alive, repairing their relationship in the process.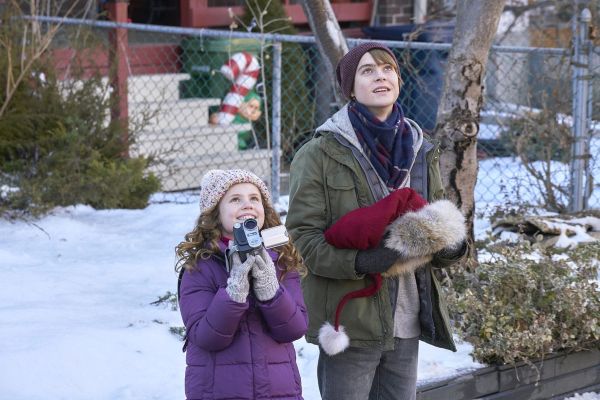 Kate captures the whole night on her family's old camcorder, adding a home video quality that adds to the originality of the film.
But Kurt Russell steals the show as the hearty Saint Nick we know and love with an uplifting spirit and a twinkle in his eye.
The movie has everything a Christmas film should have – an uplifting storyline, a fun-filled adventure, and heartwarming predictability.
The movie has received mixed reviews – some are calling it cheesy and condemning its sub-par cinematography while others have responded that those haters just don't get the point of the film.
Like The Santa Clause, it exposes an 'imperfect family' and shows how their familial bonds can be stronger than ever before.
It's the kind of film you can put on with your mates while drinking hot cocoa in your footie pyjamas snuggled on the sofa.
So, just embrace the cheesiness and love the film for everything it has promised to be – the embodiment of a feel good Christmas classic.
Oh and did we mention who plays Mrs. Clause? Watch until the end of the film to catch her surprise cameo.
It's the perfect holiday movie to add to your binge list this December.