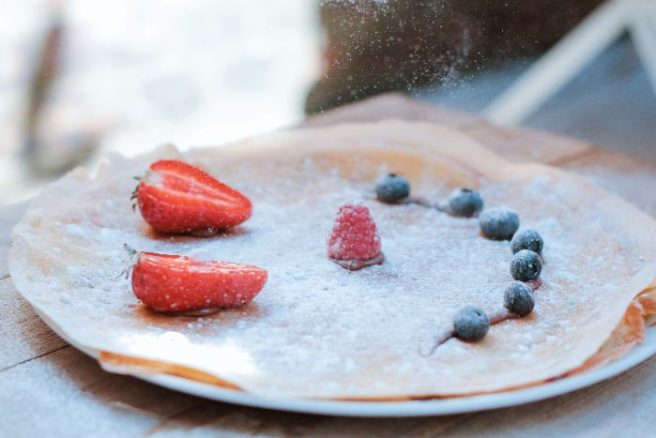 Crêpes have swiftly become one of our favourite foods. Ever since visiting Paris, we've been eager to find the best spot in Dublin to devour the French treat and we've finally found THE place.
Voici in Rathmines has answered our prayers with their heavenly menus and we are most definitely visiting them on Bastille Day.
Authentic French eatery, Voici, celebrates things Crêpe and Galette all year round. Marking Bastille Day, this July 14, these Master Crêpeieres are sharing their tips, trivia and experience of this French national staple.
The team at Voici Wine Bar & Crêperie explain that a galette is a savoury crêpe made with buckwheat flour (Farine de Sarrasin), whereas sweet crêpes are made using white organic flour!
Sourcing their buckwheat flour from the Moulin de la Fatigue in Brittany France – the birth place of the galette. This flour is milled with a traditional flint millstone, the same process since 1870. So you're guaranteed a traditional French experience.
Transport yourself to Paris this Bastille Day or any day by visiting this genuine French Crêperie & Wine Bar delivering authenticity in appearance and taste – and for Bastille Day they are offering a complementary glass of Prosecco with each meal.
Take a trip to the Cote D'Azur with the "De La Mer" galette served with smoked salmon, lemon dill crème fraiche, vegetables and capers.
Or keep it traditional with "Le Traditionnel" – home cooked Irish ham, melted Irish Cheddar Cheese and either Ballymaloe Relish or Moutarde á l'ancienee (French wholegrain mustard).
Modern variations on the traditional sweet Crêpe include "Crêpe Caramélisée" served with handcrafted Atlantic Sea Salted Caramel Gelato topped with fresh whipped cream, flaked almonds and homemade caramel au beurre salé.
Or to add "wow" factor to your day go for the "Crêpe Suzette" – freshly squeezed orange and lemon, melted butter, sugar and flambéed with Grand Marnier.