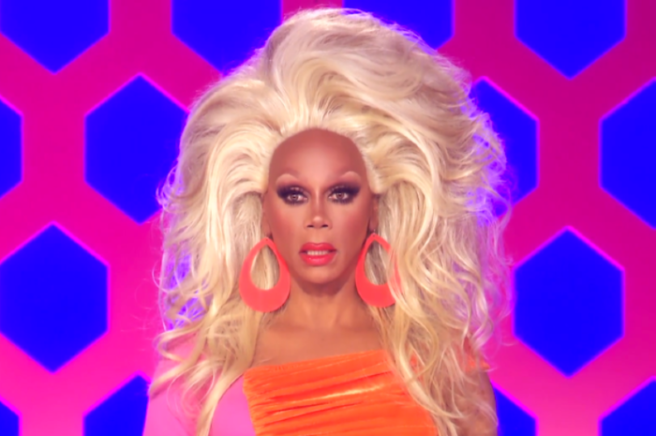 A RuPaul's Drag Race contestant has claimed that she was BANNED from donning a dress which resembled a giant sanitary pad on the hit diva show.
Drag queen Manila Luzon is currently competing on the fourth season of RuPaul's Drag Race All Stars, which is synonymous with breaking glass ceilings and overcoming certain stereotypes.
In the latest episode of the show, which aired last Fridaym Luzon and the cast served some killer lewks and the drag artist herself wore a Chanel-inspired gown for the 'Curves and Swerves' challenge.
Controversy arose when Manila went public with Ru's decision to ban her original menstruation-inspired dress, saying it was in "bad taste", despite previous looks on the show being far more controversial.
Manila took to her Instagram to post an image of the dress, captioning the image;
"Ru said my ORIGINAL Curves & Swerves Runway look was in "bad taste" and production told me to wear my back up. I was really looking forward to wearing this gown that I think celebrates a perfectly normal human experience!"
"Many of my fans are young women who may feel pressured by society to be embarrassed by periods. It's empowering to teach young women about their bodies, encourage them to celebrate them AND to question people who tell them not to!" she added. LOUDER FOR THE PEOPLE IN THE BACK.
"My goal with this look was to normalise menstruation by looking great even if I was on my period!" she continued.
The look was curated by designer Dallas Coulter, and consisted of a sanitary pad corset and fake blood alongside a glamorous red skirt.
"Instead, I decided to wear the beautiful quilted dress you saw in the episode because it is not my show, it's Ru's. But because of Ru, I have my very own platform to speak for myself and show you all my interpretation!!
Fans of the show were NOT happy, to say the least.
Wow. @RuPaul wouldn't even let @manilaluzon wear a menstrustion dress.

You're doing nothing for the stereotype that cis gay men hate vaginas, boo.

Sincerely,
A man who menstruates

— Chiyo. (@ChiyoGomes) January 7, 2019
Another Twitter user wrote; "Period drama! As an endometriosis sufferer thank you for trying to normalise periods."
Manila's post has caused major criticism of Ru Paul's methods, following public outcry last year when Ru expressed his disapproval of transitioning queens taking part in Drag Race.
He was accused of transphobia after saying actively transitioning women probably couldn't participate in the famous show;
RuPaul said, "Probably not. You can identify as a woman and say you're transitioning, but it changes once you start changing your body."
Each morning I pray to set aside everything I THINK I know, so I may have an open mind and a new experience. I understand and regret the hurt I have caused. The trans community are heroes of our shared LGBTQ movement. You are my teachers. pic.twitter.com/80Qi2halN2

— RuPaul (@RuPaul) March 5, 2018
"It takes on a different thing; it changes the whole concept of what we're doing," the 57-year-old LGBTQ idol said, later apologising for his comments.
Neither Ru nor the production team have responded to the period dress debacle.