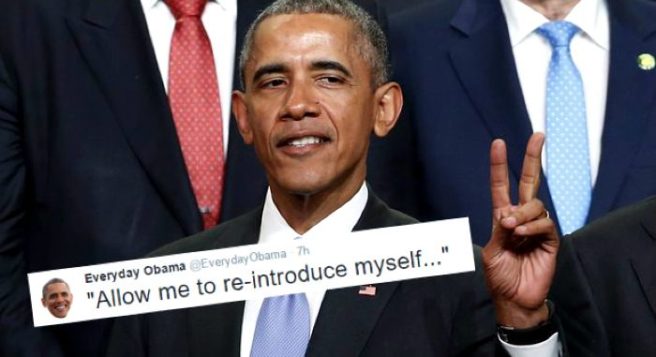 It's safe to say we all fell in love with Barack Obama during his eight years as the President of the United States.
But now, the former prez is taking some well-deserved time off – in the Virgin Islands, no less.
Yep, kicking it back right beside Richard Branson, Barack decided to let his hair down and Twitter is absolutely delighted.
Welcome, backwards hat Obama:
"Allow me to re-introduce myself…" pic.twitter.com/dLYEXsBtRV

— Everyday Obama (@EverydayObama) February 2, 2017
Did you see Obama with his hat backwards? I wonder if Biden has a hat with a propeller on it. #obama #potus

— Missin' Obama (@MissinObama) February 2, 2017
So simple. So good. Obama's backwards hat.

— jbudler (@jakebudler) February 2, 2017
Obama's on vacation with the hat backwards. He's never coming back. pic.twitter.com/RUakcwwgtT

— Philip Lewis (@Phil_Lewis_) February 1, 2017
Obama really in the BVI in flip flops just chillin pic.twitter.com/k1zb1Z3bQ2

— Amat Victoria Curam(@BR_Nation) February 1, 2017
President Obama: when they go low, we go high

Civilian Obama: when they go low [turns hat backwards] we *get* high

— huntigula (@huntigula) February 1, 2017
Obama got his hat to the back like it's 1990 and trump isn't president. GET YO ASS BACK HERE… with respect, sir. pic.twitter.com/OWjVXnNqTh

— CLOUD N9NE SYRUP (@CloudN9neSyrup) February 1, 2017
US is in flames and Obama's wearing his hat backwards and eating a sno-cone w/ Richard Branson like, "Bitches, you did this to yourselves."

— Tori Hoover (@torihoover) February 2, 2017
Obama in flip flops hat backwards no fucks to give lol

— Ren (@nowayjose14567) February 2, 2017
Desired mood: Obama on vacation with his baseball hat on backwards.

— dara bankole (@dara_bankole) February 2, 2017
History books will now say on this day Obama wore a hat backwards & Jay Z and Beyoncé made another pitcher of Lemonade. #BlackHistoryMonth

— ramel (@itsRamel) February 1, 2017
obama in a backwards hat is my favorite obama.

— Ally Hills (@allyhills) February 1, 2017
G'wan Barack.