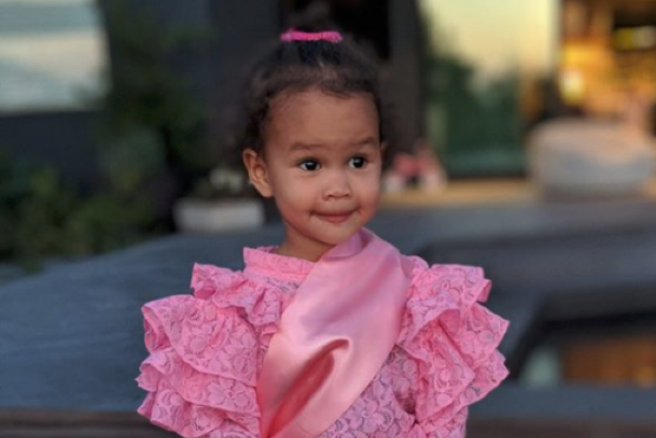 Chrissy Teigen's daughter looks just like her mum in these adorable photos.
Like many mums, the model can't stop gushing over how cute her children are and neither can we!
The mum-of-two recently had baby Miles and has been hinting at hopes of having a third child as well.
In her latest post, the mum-of-two posted a captivating portrait of her darling daughter Luna.
The toddler is dressed head-to-toe in pink, from her sandals to her high-top scrunchie.
Her chic outfit resembles traditional Thai clothing with layers of colourful patterns and lace, pulled together with a lovely silk sash.
Chrissy seems proud of little Luna as she rocks a modern take on her ancestors' customary wear.
The resemblance between the two-year-old and her mother is uncanny.
Chrissy also shared what appears to be an old photo of herself sitting on her mother's lap with a huge smile.
The young model is pictured in a long, blue silk dress.
Her mum looks fondly at her while the two hold hands and relish the lovely mother-daughter bond they share.
Now the gorgeous model is grown with children of her own and fully embraces her Thai culture.
Although as a child in America she used to be embarrassed of her different heritage, the mum could not be prouder of who she is and where her family has come from.
She wishes for Luna to have a different experience as a child, feeling nothing but acceptance and pride in her culture.
This is why Chrissy gives her daughter dark-skinned dolls called Coco Baies instead of blonde-barbies, she explained to StyleCaster.
"Having something that represents them or looks a little like them, it changes everything."
We are glad to see Chrissy encouraging young Luna to be confident in herself and absolutely love the gorgeous photos of the mom and daughter duo.