Wedding bells are ringing for this Glee actress
She said in an interview back in 2011 that she wanted to marry her childhood sweetheart Taylor Hubbell 'so bad' and her wish is finally coming true.
Heather Morris (aka: the legendary Brittany S. Pierce) gave birth to her son Elijah in September 2013 and after getting engaged in July, she's now talking wedding plans!
The Glee actress says that becoming a mum was "life-altering," but planning their wedding has also been a special time in her family's lives.
"It's just more exciting between us. Just like the future plan was, we always wanted to get married," the 27-year-old told Us. "We've been looking forward to having a huge, fun reception."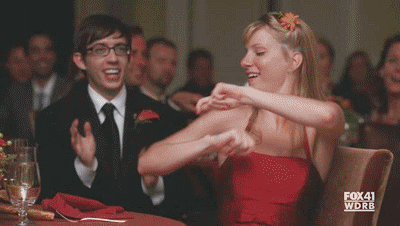 It looks like things couldn't be peachier for the couple, with a source close to Heather saying: 'They're super happy together and it just made sense. Heather was beaming when spotted wearing her engagement ring.'
We love that Heather has been really chilled about getting back into shape. The trained dancer who has gone on tour with Beyonce (eek!) hasn't put too much pressure on herself and is taking it slow and steady, going for daily walks and burning calories at dance classes.
We bet she's going to look absolutely fab on her big day.
We wonder if Lord Tubbington will be the ring bearer…