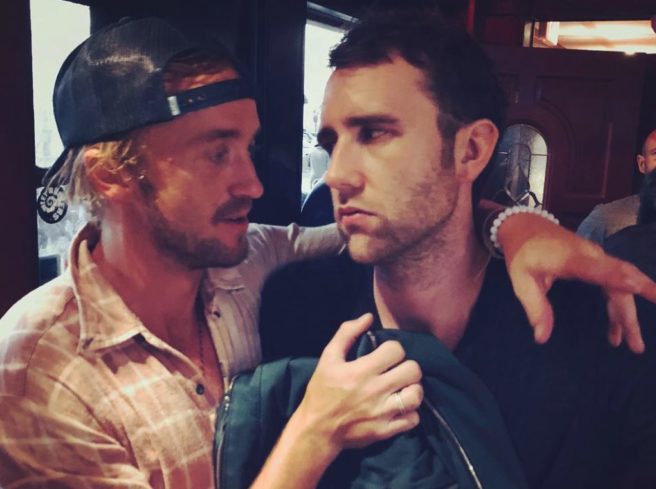 Tom Felton and Matthew Lewis have a Harry Potter reunion in LA
Wands at the ready, we're heading back to Hogwarts…
Past pupils and old enemies Draco Malfoy (Tom Felton) and Neville Longbottom (Matthew Lewis) recently met up in Los Angeles – and couldn't help but joke about their Harry Potter alter-ego's.
Tom put up a snap on Instagram of himself, holding a Slytherin backpack, and Matthew, with the caption, ''see how close he was to converting…. @mattdavelewis #gryffindork.''
Matthew was sticking to his Gryffindor roots however, when he put up a similar shot, captioned, ''take your Slytherin paws off me, you damn dirty ape! @t22felton.''
Looks like Tom's attempt at a Slytherin recruiting session didn't work out – but he might get another chance as this isn't the first time recently that former Hogwarts students have hung out.
In April, Tom and Matthew posed for pictures with Emma Watson (Hermione Granger), with Tom posting them to social media, saying, ''school mates #hogwartsalumni."
Wonder how the trio would fare in the wizarding world – reckon the would be mates?
Fans understandably went wild on social media when the guys put up the pictures.
One wrote, ''Tom Felton carries a Slytherin bag with him. Everything is feeling right with the world again'' while others, who are clearly Slythrein fans, were teasing Matthew.
One wrote, ''come to the Slytherin side @mattdavelewis ,we have cookies'' followed by a snake emoji.
Others, however,were just delighted to see the two former co-stars together. One simply said, ''this is the best photo I've seen all year.''
Now, can we have a full-cast reunion soon please?