Irish AND a Victoria's Secret model: 9 reasons we LOVE Stella Maxwell
We love a homegrown hero and up and coming modelling sensation Stella Maxwell is no exception.
Looking phenomenal as a Victoria's Secret Angel, she has officially become our latest girl crush. But who is she, where did she come from and most importantly how can we have her life?!
1. She has Irish in her blood
Though Stella grew up in many different parts of the globe, she was born to Northern Irish parents. Her parents are both Belfast natives which means we are officially claiming her as Irish.
2. She has lived all over the world
The leggy blonde spent her early years in Belgium before moving to New Zealand with her Dad being a successful diplomat. She now casually manages to split her time between LA and NYC. Jealous does not even begin to cover it!
3. She dated Miley
Even with her modelling credentials, Stella came to everyone's attention when it was reported she was dating none other than Miley Cyrus earlier this year.
Having met through mutual friends, the pair were caught passionately kissing and even though it looks like the fling may have ended, it caused a pretty big sensation. Let's just say we cannot wait to see who Stella dates next.
4. She is a Victoria's Secret Angel
Stella walked the 2014 Victoria's Secret show and officially became an Angel in 2015. She wore her wings for the first time on this week's show, which took place on Tuesday, and she looked amazing.
5. She's a catwalk veteran
Though she was thrust into the limelight for being a Victoria's Secret model and her rendezvous with Miley, Stella is a seasoned model and has walked many catwalk shows in her short career.
Big names she has worked for include Marc Jacobs and Moschino.
6. She has a seriously enviable squad
Apart from being effortlessly trendy, Stella Gigi Hadid amongst her BFFs, and lives in New York with her best pal and fellow model Barbara Palvin. She gives us a serious case of #squadgoals.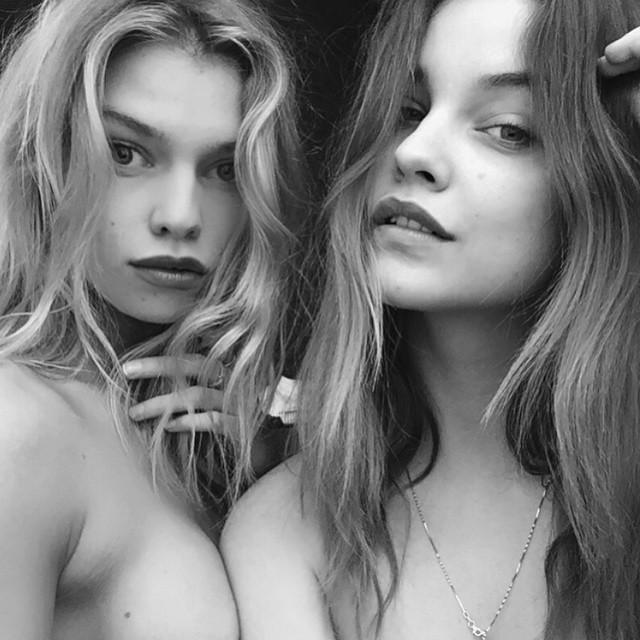 7. She takes androgynous to a new level
Beginning her career with a short, peroxide blonde pixie cut, Stella propelled herself into the fashion industry by being able to create a variety of versatile looks.
She's gorgeous, but we must admit she would make a pretty cute boy
8. She's a musician
Stella recently told V Magazine that she has finished up an album with friends in New York. Watch this space…
9. She dropped out of university
Before her modelling career took off, Stella studied in the University of Otago in New Zealand where she studied Psychology for one year. She left college in favour of her modelling career. Can you blame her?