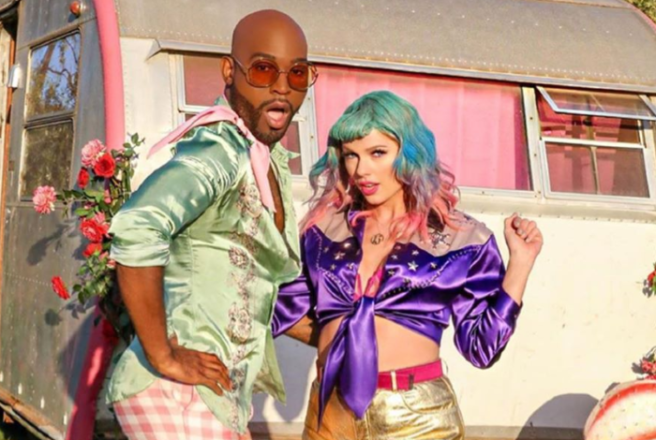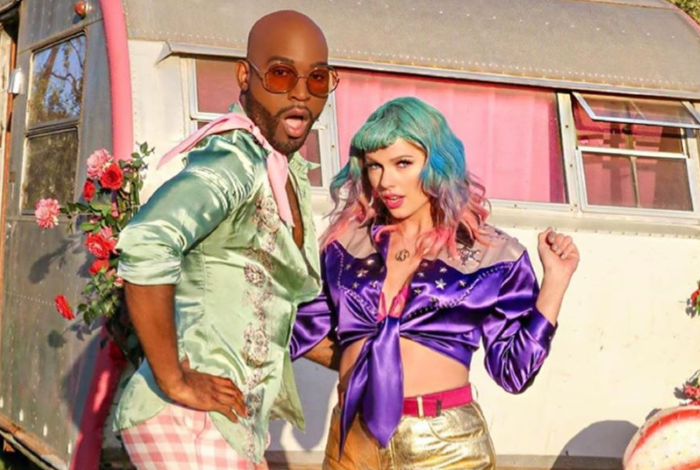 Taylor Swift has just released the colourful explosion that is the You Need To Calm Down video, filled with LGBTQ+ icons and Easter eggs galore.
Her anti-homo/bi/queer/transphobia anthem has emerged in the midst of Pride month, and has divided fans online.
Some are claiming that a heterosexual, cis-white woman speaking for the LGBTQ+ community and profiting from the song is problematic.
Others are pointing out her recent activism and dedication to donating funds towards LGBTQ+ charities. (Almost $100,000, if we're counting)
The term 'queer-baiting' has been thrown around, which is basically a marketing technique in the entertainment industry which hints at same-sex relationships or gender queer relationships, but doesn't actually deliver them for the purpose of profit.
Is Taylor simply jumping on the 'Gays Are Great' bandwagon for the sake of her image, and upcoming album release? However, any visibility is good visibility, and she's giving members of the queer community a chance to shine in the video.
So many celebrities showed their fierce personalities in the latest music video, with ALL of the Queer Eye 'Fab 5', Ellen DeGeneres, Hayley 'Lesbian Jesus' Kiyoko, Laverne Cox and Billy Porter flaunting their stuff.
However, Taylor has never openly discussed her sexuality, and we can't make any assumptions, but fans have viewed her hair in the music video as a clue about her possible bisexuality.
As we all know, Taylor hides an array of meanings within her music videos, and her hair simply CANNOT be an accident. Her barnet is actually the colours of the upside-down bisexual flag, hello hint?
The bi Pride flag features pink, purple and blue stripes, and bisexual Twitter has damn near lost their minds. Representation is incredibly important, and these fans definitely confirm that.
I'm just gonna sit in the corner and point out that Taylor Swift's hair is the colour of the bisexual pride flag #YouNeedToCalmDown pic.twitter.com/h4C8e07NAm

— (@prettyinpinkham) June 17, 2019
"I'm just gonna sit in the corner and point out that Taylor Swift's hair is the colour of the bisexual pride flag," wrote one hyped fan.
WILL I EVER SHUT UP ABOUT THE FAVT THAT TAYLORS HAIR IS THE UPSIDE DOWN BISEXUAL FLAG PROBABLY NOT OKAY RIP ME @taylorswift13 @taylornation13 #YNTCDmusicvideo pic.twitter.com/z5LEuDRxIF

— (@karleighbrunson) June 17, 2019
Another used caps lock to a ridiculous extent;
"WILL I EVER SHUT UP ABOUT THE FACT THAT TAYLOR'S HAIR IS THE UPSIDE DOWN BISEXUAL FLAG PROBABLY NOT OKAY, RIP ME."
I recognize that it is problematic to speculate on someone's sexuality…. but Taylor Swift painting her hair the colors of the bisexual flag…. it has to mean SOMETHING!!!!

— Mackenzie Newcomb (@MackinStyle) June 17, 2019
"It has to mean SOMETHING!" We have to agree with Mackenzie here, who appears to have been hyperventilating.
No cops at pride just Taylor Swift and her bisexual hair! #YNTCDMusicVideo pic.twitter.com/QzqKufGTZf

— (@_alphadork) June 17, 2019
There seems to be plenty of gasping going on over at Twitter HQ…The excitement is palpable.
This bisexual wig made me gasp. @taylorswift13 @taylornation13 is this real??? Is what I think happening, happening??? pic.twitter.com/nNLxBn2XYe

— (@thegabibee) June 17, 2019
Is Taylor a bisexual icon or just an ally supporting her pals at Pride?
She has previously discussed the difference between queerbaiting and ally-ship, so she definitely knows the difference.
Either way, for someone with a platform as big as Taylor's to give a nod to a marginalised community is hugely meaningful.
Visibility to heavily stigmatised groups of people will always be special, so we see nothing wrong with Taylor's music video.
Feature image: Instagram/@tina_swiftie