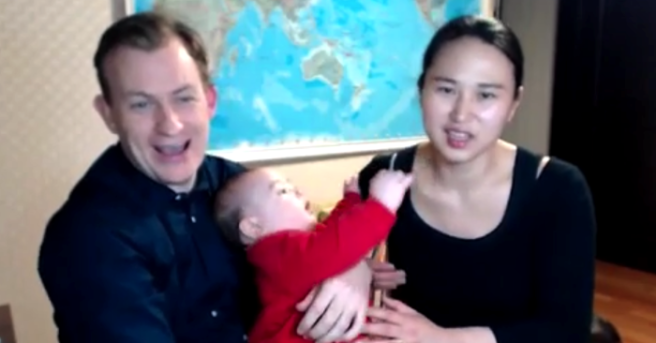 When Robert Kelly appeared on BBC World News last Friday, we doubt he knew what he would be facing in the days that followed.
Robert and his family became an Internet sensation after his two kids burst into the room that he was doing a live interview in.
The clip went viral and we all instantly fell in love with the family.
This guest managed to keep his composure when his children interrupted his live @BBCWorld TV interview pic.twitter.com/3x5tgsVR8R

— BBC News (World) (@BBCWorld) March 10, 2017
@SarahMagliocco @BBCWorld I'm impressed by her slide. Gives TOM Cruise in Risky Biz a run for his money.

— Stacy Collins (@coopliscious) March 10, 2017
@BBCWorld when you hear Zara is having a sale pic.twitter.com/yM3ntYmBNE

— Sarah Magliocco (@SarahMagliocco) March 10, 2017
@polskey @BBCWorld I laughed out loud so hard. I can't even handle that kid rolling in

— Liv Stewart (@livstewart88) March 10, 2017
And now, Robert and his wife, Kim Jung-A, have finally spoke out about what happened that day.
Robert and Kim sat down with the Wall Street Journal, with Kim laughing that "he usually locks the door!"
The mum-of-two said, "Most of the time they come back to me after they find the locked door. But they didn't. And then I saw the door was open. It was chaos for me."
In the interview with the WSJ, Robert then got a moment to speak by himself, but of course, his children came crashing back down the corridor.
"This is my life, man!" he exclaimed in the interview.
Ah, we love this family!