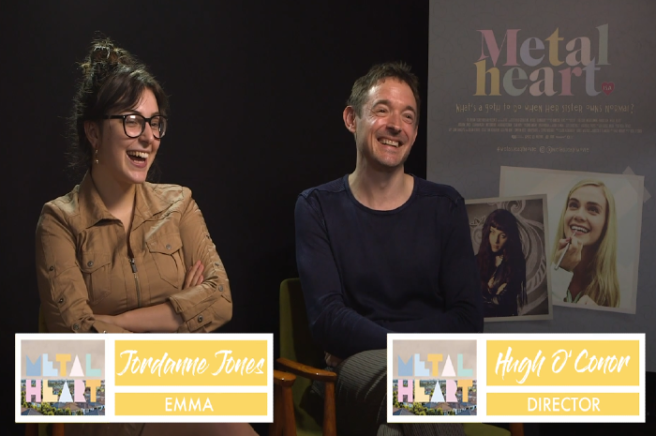 "What's a Goth to do when her sister owns normal?"
Many of us can relate to the heightened drama, the comedic charm and the soft nostalgia behind the classic teen films of the 1980s.
John Hughes has inspired a wealth of cinematic techniques, dialogue tropes and character associations following his prolific years as a director. Sixteen Candles, Ferris Bueller's Day Off, The Breakfast Club, Pretty in Pink, Home Alone; All films that remain iconic to this day for their humorous yet emotionally sensitive show of the ups-and-downs of adolescence. Realism combined with an honest portrayal of the lives of suburban teen youths earned him a name as one of the best in the business. It's easy to see why actor-turned-director Hugh O'Conor is influenced by his endless anthology of masterpieces.
Watching O'Conor's newest work, Metal Heart, is like seeing a version of your favourite 1980s teen coming-of-age drama travel through time and land straight in suburbia Dublin. Being introduced to characters like Emma, a slightly moody yet emotionally intelligent Goth, makes your teen years feel represented. Chantal may remind you of THAT girl in school who appeared to have everything at first, but you'll soon see that people aren't always what their exterior portrays.
Jordanne Jones shines in the protagonist role, showing a range beyond her years and bringing out the talent of her co-stars beautifully. Luckily for us, we got to chat to Hugh and Jordanne about the meaning behind the character's connections to one another, life as a sibling and the comedic genius within the ensemble cast.
Séan Doyle (of Fair City fame) as Gary and Jones (I Used To Live Here, Resistance) as Emma are a scene-stealing pair, playing two Goths struggling to find their way in a bland and superficial Dublin suburb. When your sister runs the town as the rainbow queen of popularity, it's even more obvious that Emma wants to stand out from her twin in any way she can
Chantal (Leah McNamara) is the complete opposite of Emma, with sunny blonde hair and a weirdly posh accent compared to her fraternal twin. Her ambitions mainly revolve around popularity and monetising her blog, whereas Emma wants to create the perfect metal rock band with her friend Gary, but numerous things are standing in her way. Gary has feelings for Emma, his lady of darkness draped all in black, but a new boy moving in next door (Moe Dunford) seemingly squanders their potential romance. Is the boy next door all that he seems? You'll have to head to the cinemas to see, the film hits Irish cinemas tomorrow, June 28.
"You look like you've been kidnapped by GAP" and a leather-sporting, piercing covered Gary shouting "You know I have chess club on Wednesday!" were two of our favourite lines from the movie, but we have to give a major shout-out to Aaron Heffernan, who's antics as Chantal's Southside Lad boyfriend Alan had us in stitches laughing. One of the best scenes displays Gary and Alan bonding over their girl troubles, with Alan proving affably empathetic towards Gary's struggles. Describing Gary as "like looking at Halloween, like", the pair have more in common than they think. Emma walking into a rainbow ice-cream parlour in slow motion to create 'black spider' flavour ice-cream also won us over completely. Not to mention Gary getting a job mowing lawns, subjecting himself to sunburn and extreme overheat with his Goth attire, only to declare; "I think I'm allergic to grass."
Delightful dialogue and a hilarious ensemble of characters are undoubtedly what makes this film feel special, with the Irish setting allowing you to feel right at home. The audience can't help but feel that the cast are already known to you, simply other people in your life that you most likely knew from Irish college back in the day. The familiarity of the language, the brilliant delivery of comedic gold lines and the commendable acting skills from Jones allows the viewer to become engrossed in the light-hearted teen flick. The emphasis on the value of familial connections and friendships at a young and impressionable age is also worth noting. Written by Paul Murray, and backed by the same producers behind The Stag and Handsome Devil, Hugh O'Conor's debut as a director will gain him many fans. He's also well-known for his acting skills, notably in The Stag, My Left Foot (as a child actor) and Resistance, starring alongside Jordanne Jones in the RTÉ drama.
We sat down with Hugh and Jordanne to chat about the new film, mainly about how they managed to stop themselves laughing around Aaron Heffernan, and how stepping into Emma's Goth costume can offer a respite from the real world.
Emma had to do her homework on life as a twin, but luckily Séan Doyle (Gary) is an identical twin himself, so could educate her on the topic.
"Séan is a twin, who plays my best friend, and he talked to me a lot about it and he talked about being competitive growing up. That was interesting, I took it in. I have a sibling myself, and a sister as well so I definitely know about the struggles and the rivalry but I'd say it's a bit more intense if it's a twin. Especially if you're the same age, both fighting for the limelight sometimes."
"Alan (Aaron Heffernon) improvised so much, which was so difficult because he's just naturally hilarious. He's so funny, he's so witty.
He has this dry sense of humour where he'll say something funny and he won't laugh, which makes it even more hilarious. We had some scenes together where he would just come out with something and obviously we wouldn't be ready for it. I remember there was a scene with me and Seán, and Aaron said something that was just improv and we were like "Don't laugh, don't laugh, this scene is going well". Gary is great as well."
Jordanne also related to her character hugely. The actress, who attends Trinity College Dublin and is a former boxing champion, has grown up as the daughter of now-Senator Lynn Ruanne.
"Emma is what I definitely wanted to be. It's scary being an Emma, standing out that much. I was an outcast growing up because I was interested in things which weren't particularly popular growing up like art and acting and theatre, I had different taste in music than all my friends. I felt really empowered when I wore it so people could see, but it was scary and I almost did admit that it would be easier if I was like other girls. I fell in and out of it and it was a struggle for me. It was nice for those 20 days to just be Emma and get congratulated for it and make a movie."
We highly recommend you show your support for rising Irish filmmakers and stars by heading to see Metal Heart, in cinemas from June 28. If not for us, do it for Alan. You won't regret it.
Watch the full interview here:
Feature image: Instagram/@metalheartmovie