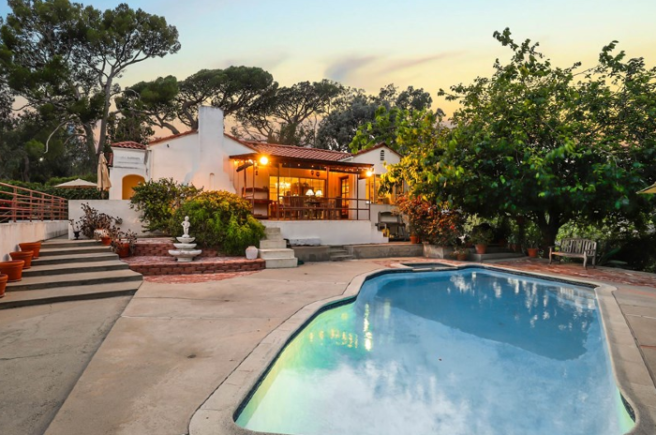 The grisly home where Charles Manson's cult brutally murdered Rosemary and Leon LaBianca in 1969 is up for sale at the moment, and who wouldn't want to live there?
The retail price is set at a cool $1.98 million (€1.78 million). The house is a definitive part of the pop culture landscape and is most likely haunted, so it's in demand.
The potentially haunted gaff is the setting where Charles Manson's followers killed Leno and Rosemary LaBianca on Manson's orders, the day after they murdered Sharon Tate in 1969.
If you're into your old Hollywood luxury as well as your macabre Netflix murder documentaries, then boy is this the home for you. If you've got a spare $2 million hanging around, that is.
According to The Washington Post, the two-bedroom, 1.5 bathroom home has been on the market for the last two weeks, just in time for the premiere for Quentin Tarantino's latest film, Once Upon a Time in Hollywood.
Sharon Tate, wife of Roman Polanski, features in the film (portrayed by Margot Robbie), which people have criticised for insensitivity.
The 50-year anniversary of the murders is also almost here, and the last time the property was on the market was in 1998.
Redfin real estate agent Robert Giambalvo says that interest in the property is relatively high, because people are weird and seem to get a high from homes people painfully died in.
"It's just such a calm, peaceful, serene environment that I don't think anybody cares about what happened a long time ago," Giambalvo told the Los Angeles Times.
"The first showings were yesterday, and I already have several people telling me that their clients are preparing to make an offer." Okay Sir, whatever you say.
The property realtors advise that anyone interested in the house does their homework.
"We don't want somebody to go into escrow and find out 10 days, 15 days later that there was the event that happened 50 years ago. And then they don't want to buy it because of that," Giambalvo explained.
"We just wanted people to make offers with their eyes wide open." Why not give it a try? It'll be like sleeping in the well from The Ring, or the mansion from The Haunting of Hill House. What fun.
Feature image: Redfin