With CAO Results out today, soon comes the panic that comes with looking for student accommodation – let's be real, it's a hellish situation. CAO offers are made on 20th August leading to a scramble (to put it mildly!) for any living arrangements that might be half-decent – given that securing accommodation in Dublin at the moment is akin to the search for the Holy Grail. Rents are high and choices are few, so it's a source of worry for many.
Finding the right place presents many hurdles and problems for students and their families. With this in mind, and should you be lucky to nab a place before college starts up, leading student accommodation provider Hazelwood Student Village shares their top do's and don'ts when searching for student accommodation so that even the little things aren't forgotten before you sign any dotted lines.
Do: Start your search now – Location, Location, Location
If you have filled out your CAO form you know the location of the universities and colleges you have applied to. Start your search now. Before you receive your CAO offer know the area you'd like to live in. Create a shortlist. You would be best placed to start your search now and familiarise yourself with what is to offer. It's important to think about the convenience of your accommodation; would you be near to the university facilities, local shops, nightlife? identify areas with good transport links so that you can widen your search. Prioritise areas where you will feel safe, check that it is close to amenities and shops. With these areas mapped out, you will be a step ahead when you receive your CAO offer.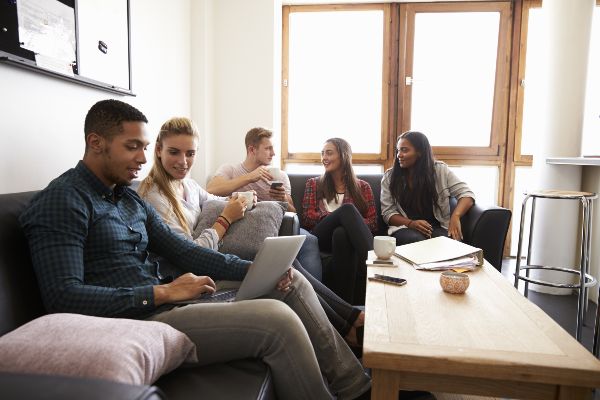 Do: Work out your priorities and your non-negotiables – Safe and Sound
Think about your preferred accommodation. To share or not to share? What are your priorities? Security, Ease of Access to college, Strong reliable internet connection, bedroom size, Public transport directly into the City Centre or to your college? What can't you live without? Once you have identified what your top priorities are, this will help narrow down your search. Safety and security should be top of the agenda when you move into a new property. Some purpose-built student accommodation has security gates, manned security personnel. Make sure these are on your list.
Do: Ask for advice
If you have any friends or family living in Dublin ask them what they know – you never know what tips they might come out with. If you know students the year ahead of you who have been through this exercise ask their advice.
Don't: Panic and take the first accommodation you view
Once you have started searching for accommodation in or near Dublin, don't make the rookie error of placing a deposit with the first place you view. Make sure to shop around.
Don't: Be scammed
There are online scams and frauds. Meet the landlord or agency. If you pay in cash, get a receipt. Only sign a contract for the period you intend to stay in the accommodation, remember if you do not require the accommodation for the summer agree that you re renting for the college terms only. Take photographs of the accommodation before you move in. Note any damage, any paintwork chipped or peeling so that it doesn't get taken out of your deposit as a penalty.
Don't: Sign a contract without going over the small details
Different accommodation offers different packages – make sure you know exactly what is being offered to you. Are there any hidden extras, such as WIFI and Utility bills? Add these into your budget to make sure you are being as realistic as possible with what you can afford. Make sure to check the start date and end date on any contract.