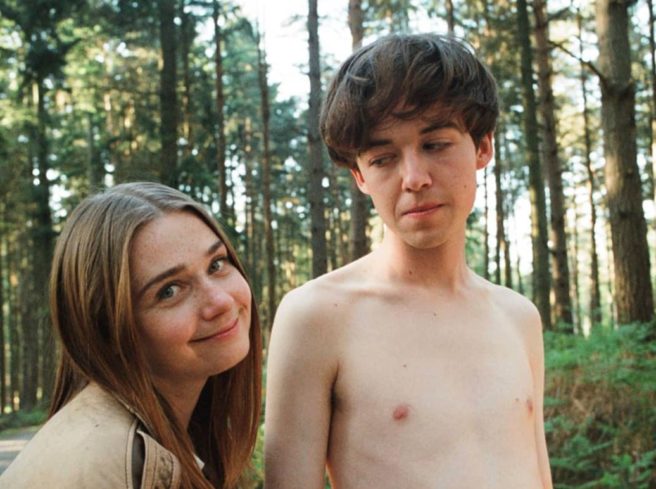 Netflix, we knew you wouldn't let us down.
The streaming device has just dropped some really good news – and we're in desperate need of it after they decided to not to renew Everything Sucks and they chose to give Insatiable the green light.
Their surprise hit, the darkly comedic The End of The F**cking World is coming back for a second helping – and we couldn't be more excited.
The Emmy-nominated show hit all the right notes with viewers – mainly down to the flawless casting of the two young leads – Jessie Barden (Alyssa) and Alex Lawther (James) as well as their pitch-perfect chemistry.
we'll be f***ing back. pic.twitter.com/K1Ai7iVeZD

— TEOTFW (@TEOTFW) August 21, 2018
I binged it in two days – and would have done it in one but it was just too good/off the wall – and I wanted to savour it.
If that isn't a sign of a great f**king show, I don't know what is.
According to Buzzfeed, the second season announcement of was made at the Edinburgh TV Festival.
The British black comedy was based on Charles Forsman's graphic novel and had eight episodes in Season 1.
This time, the episodes will be based again on material written by Forsman and Netflix have tweeted confirming ​​​that Charlie Covell, who wrote the first season will be returning.
THE END OF THE F***ING WORLD was eight perfect slices of television and one of my favourite things this year. So another season is exciting and worrying. #TEOTFW https://t.co/BFSiKKr9cV

— Jason Whittaker (@thetowncrier) August 22, 2018
However according to IndieWire, she may have to use her imagination for the next season though, as Alex Lawther has stated earlier this year, "it was based on a comic book series by Charles Forsman and the comics end where our episodes end."
Jessie Barden celebrated the news on social media with the caption, ''please break Instagram'' an a kiss emoji.
We were raging when the first season ended on a cliffhanger – what the hell happened to James?!
So are we ready to find out where our two teenage psychopaths are now?
Make that a F**K YES.