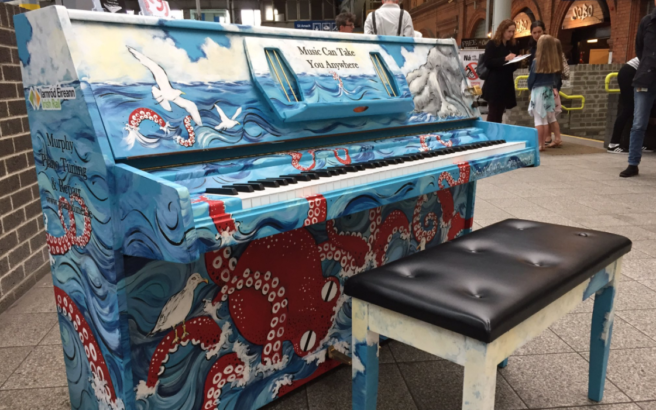 Attention all Dublin commuters – your morning DART journey is about to get a lot more musical!
A public piano has been installed at the Pearse street station in Dublin today and will remain a permanent fixture so that all commuters can enjoy a song (or two) before boarding their train.
Inspired by similar installations in a number of stations across Europe, John Murphy, a Dublin-based piano tuner was keen to introduce the innovative idea to the Irish public.
Beautiful illustrations of coastal #DART views by @edmondson_sarah #thehairysquid #pearsepiano #musiccantakeyouanywhere pic.twitter.com/dZckKN2myg

— Iarnród Éireann (@IrishRail) September 7, 2017
Designed to represent the DART's coastal views, NCAD graduate, Sarah Edmondson, decorated the piano with an intricate underwater scene, complete with the words 'Music Can Take You Anywhere.'
Dubbed the Pearse Piano, the stations latest addition has already captured the imagination of the capital's budding musicians.
Beautiful sounds and songs shared on the #PearsePiano #musiccantakeyouanywhere #pianotuning @irishpianotuner pic.twitter.com/gEkvu3PxgU

— Iarnród Éireann (@IrishRail) September 7, 2017
The audience has gathered in #PearseStation #pearsepiano #musiccantakeyouanywhere @irishpianotuner pic.twitter.com/v8o4PQpaic

— Iarnród Éireann (@IrishRail) September 7, 2017
The first tune of many #PearsePiano @irishrail @sarah_edmondson #publicpiano #pearseststation #musiccantakeyouanywhere #pianotuning pic.twitter.com/S8UHJRgYON

— Murphy Piano Tuning (@irishpianotuner) September 6, 2017
Speaking at the installation of the piano John Murphy said: "Public pianos have been introduced at train stations in London in recent years. I wanted to bring the idea to Dublin to promote music and disrupt the traditional view of the piano as an inaccessible instrument.
"You don't need to be a Jools Holland or a Mozart. If you can play at all you have the ability to brighten up someone's day. Music has the power to take you anywhere you want to go."
Now, we're not saying we're a modern day Mozart, but we'll definitely be giving this a go the next time we're passing through.