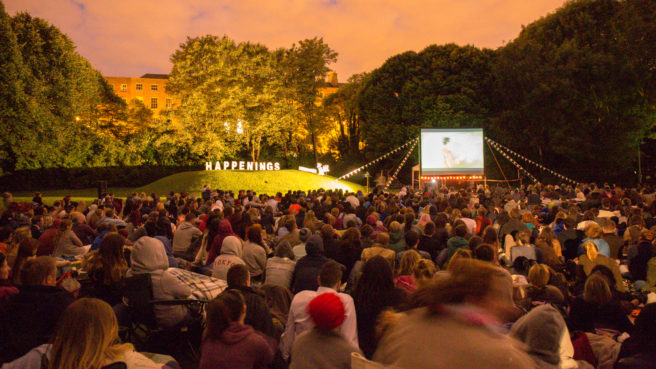 It might only be Monday, but if you're anything like us, you've got one eye already on the weekend – and what better way to kick it off than settling in for an open air screening of the romantic Irish musical, Once?
This Friday, July 28, Happenings, in association with 7UP Free will transform Fitzwilliam Square, Dublin 2, into a spectacular outdoor cinema where attendees can melt into comfy billow bag while enjoying a special screening of a film that perfectly encapsulates the heart of the city.
The modern-day musical, which celebrated its 10th anniversary last year, tells the tale of two struggling musicians in Dublin who fall for each other after sharing an eventful week of writing, rehearsing and bonding over their love of music.
Oh and did we mention there's a complimentary 7UP Mojito Free for every guest?
Rebecca Burke, Head of Marketing for PepsiCo said "We are very excited to once again partner with such a well-known and respected Irish brand like Happenings for the 7UP Summer Cinema series."
"We know that Irish people are huge movie lovers, so we look forward to bringing some fun screenings to audiences nationwide in 2017, for a movie experience like never before! Set in some of the most picturesque outdoor locations of Dublin, Cork, Kilkenny and Galway, there will be exciting activities for all members of the audience."
Food, coffee and delicious treats will be available on the night from Irish Village Markets.
7UP Free will be giving away a number of tickets to each screening, so keep an eye of their social media channels if you fancy heading along.
Tickets are priced at €5 and are available to book in advance online or on the door. It all kicks of at 8:30pm but early arrival is advised to get the best seats in the house!
Check out www.happenings.ie for more information.