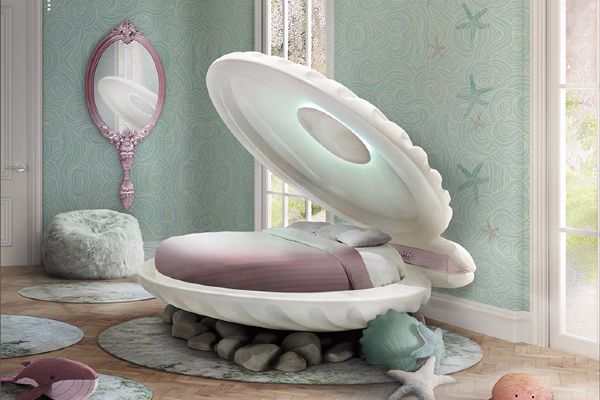 Are you a total Disney geek or do you know a person who is?
Well then, it's time to get very, VERY excited, because you can now buy the clam bed from The Little Mermaid.
The beautiful mer-tastic bed is available through Portuguese interior company Circu, which makes "magical furniture."
This bed is an absolute dream come true, but sadly is made for children (and short people perhaps?).
The Little Mermaid bed is six-and-a-half-feet tall, and is equipped with a blue night-light, so you can feel like you're floating in the ocean.
Now, before you start planning your mermaid DREAM, it is important to note that this magical bed is NOT cheap (naturally!)
The bed costs a whopping $16,000 (15,000), which is absolutely outrageous… but if you were to win the lotto it may be OK?
If mermaids aren't your thing, which would be weird, the company also sell other amazing beds that include hot air balloons and rockets.
Pop these gorgeous beds on your wish list if you fancy it, but remember "the seaweed is always greener, in somebody else's lake."
They are very fun to look at!