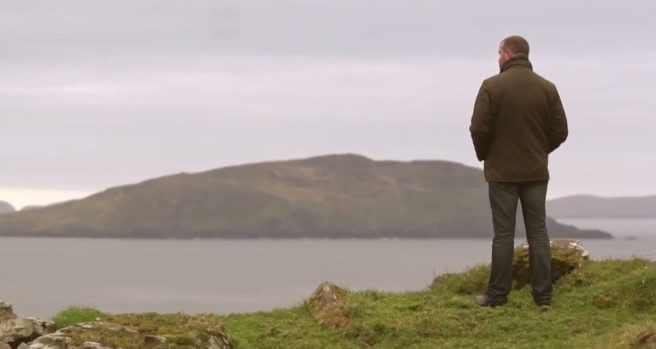 It was the poem that took the nation by storm earlier this year.
Prose which reflected on the various elements that help to comprise and define contemporary Ireland, Stephen Smith's My Ireland tapped into the psyche of a nation and earned the Dublin poet thousands of new fans in return.
Whether it was Stephen's delivery or the sentiment contained within, My Ireland struck a chord with SHEmazing users, and it came as no surprise that you voted in your droves for Stephen to take the title of 'Man of the Year' at the inaugural SHEmazing Awards in May.
This week, the poet gave his fans and followers an insight into a particular period of his life which resulted in the creation of Iomramh and Nightsky & Butterfly – poems which Stephen wrote at the Cill Rialaig Artist Retreat in Ballinskelligs, Co. Kerry in 2016.
"It can sometimes be hard to write, and there I was with a fish on the end of the hook waiting to be pulled in and I was too busy worrying about a shark on the other side of the world."
"So this is how both 'Iomramh' and 'Nightsky & Butterfly' were written," Stephen explained on his Facebook page this week.
"I felt as if I was on my own journey of self-discovery when I was in Cill Rialaig, truth is I wasn't happy then as you've probably gathered. I made some decisions in October 2015, to given up alcohol and become vegetarian and started to exercise a bit more."
"I was left heartbroken after a relationship ended, I was in debt, I had to find a new home, I had put on some weight and I didn't feel good in myself and while I had just graduated from my degree that had given me structure for the past four years, I was now unemployed and lacked a purpose. I felt a bit of a failure."
In a lengthy and intimate post on Thursday, Stephen introduces the poems and the incidents which preceded them, writing: "I think that's also where both these poems come from. That understanding that life is always in flux, I've had down days since, but thankfully I've been able to deal with them better."
"These poems are now touchstones for me to remember that." he added.
With Bolus Head as the backdrop, Stephen begins: "A man goes to the coast of an island to be alone. He has gone as far as he can for now. It's called retreat."
And we'll let the man himself take it from here…