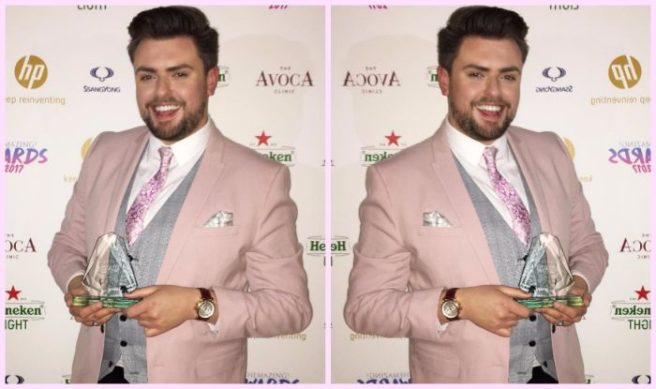 James Butler talks trolls, TV work, and his Man of the Year win

May 4 saw Ireland's biggest, brightest and best influencers take to the Mansion House in Dublin for the inaugural SHEmazing! Awards.
James Butler was up against fierce competition in the Man of the Year category, but walked away with the title on the night.
'I was shocked when I got the nomination because it's unusual not to be nominated for something social influencer related, obviously it's unusual to be nominated for anything, so it was cool to be nominated for something other than that, and I was in great company so I did not think I would win,' he said.
'I was thrilled (to be nominated), and then to win on the night was just fab, I think it took me a while to get up off the seat,' he exclaimed, recalling the moment he was named Man of the Year at the SHEmazing Awards ceremony.
James has enjoyed a hugely successful career in the areas of Irish TV and social media influencing, taking up a unique space in the industry thanks to his hilarious, creative and entertaining content.
Not just one for Snapchat, James kicked off his social media career by starting a style Instagram, posting outfits and style inspiration, before he decided to start a blog on the subject.
His blog was a hit success after much hard work, and led to opportunities with brands and TV shows like Ireland AM's blogger style-off segment and Xposé fashion reports.
As his following built up, he started doing more TV bits for RTE, including videos for First Dates and covering the Rose of Tralee for their Facebook Live.
'It hasn't been an overnight thing, it was lots of little different things that just came together, and thankfully worked in my favour so far,' he said.
Discussing his influencer success, he said: 'Not everyone will like everything, so the key is to keep ticking away as you are but keep an eye on what your followers like.'
'A bit of a cliche, but take each day as it comes as they say, and don't ret on your laurels and become too complacent.'
The influencer industry has a reputation for being highly competitive, thanks to the thousands of influencers and micro-influencers who all share a space in a now saturated online field.
However, James hasn't found that the social media movers and shakers he has encountered entertain that kind of attitude.
'I would say it's quite supportive and I say that because I think the reason that influencers might be where they are is because they're not like other people.'
'Those that try and copy wouldn't do as well because why would people want to work with someone that there already is a version of?'
'There isn't really the room for any bitchiness because it doesn't really get you anywhere. Just be sound, that's what I say.'
The avid Snapchatter cites the career opportunities awarded to him with help from his following as one of the best perks of the job.
'The best part is the opportunity that it leads to so it's led to a good bit of TV work for me, brand work, fashion work that I might not have gotten if I didn't have a following that I have, it's opened doors.'
Unfortunately, there will always be those who seek to demean and troll influencers who put their personal lives online.
'Because you do expose yourself to so many thousands of people, you might get some smart comments here and there, luckily I don't get too many, but you would get the odd one about your appearance or your weight.'
'But they're one in a million. You just need to forget about those, maybe be angry for 30 seconds and then be like "ah feck it they're saying it behind a keyboard they won't say it to your face."'
Hear, hear, James, hear hear!