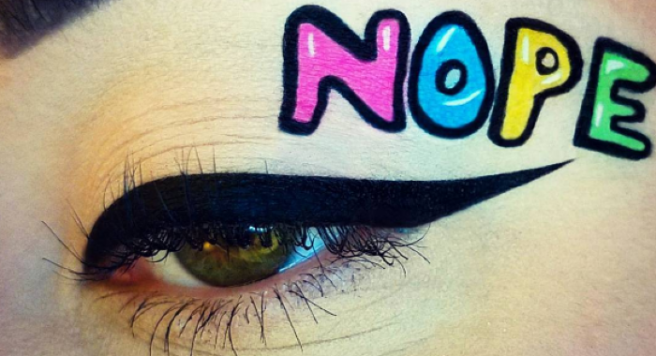 "You'd be so much prettier without all that gunk on your face" is something that only, I repeat, only our mothers can say to us, not trolls on instagram.
Some makeup artists get bombarded by haters telling them they wear too much make up, attempting to shame the maquillage mavericks into ditching their carefully crafted faces.
One MUA, Miami-based Amy who shows off her unique makeup looks on Instagram at @agentsometime, defied the haters and proved to her followers that makeup shaming simply isn't ok.
Spelling out a very colourful message, the MUA posted a snap of some achingly sharp liquid liner, along with the word "NOPE" outlined above it.
The makeup fan is clearly fed up of people pointing out that they prefer a natural look and she should tone it down.
Other makeup artists have followed Amy's example,a nd posted responses of their own to makeup shamers.
Making the most of the popular meme slogan "cash me outside, how bou dat," another MUA outlined the phrase on her eyelids as a reply to her highlight haters.
Clapping back at people who shame the level of makeup others wear has become something of a movement in the makeup community, with hundreds of Twitter and Instagram posts on the subject.
Shaming for any reason really isn't nice behaviour, never mind over something as personal and creative as someone's makeup application.
How I cry when people tell me
"You wear too much makeup"
"You're a cake face"
"You wear so much makeup it's gross" pic.twitter.com/bQHi7rSIx1

— Wybie (@magiccjozlyn_) June 29, 2016
However, it seems like the hate is just one more reason to create spectacular makeup looks in the cosmetic community.
Keep doing you, girls.