No home is fully complete without candles, especially during Christmas. We've rounded up our favourites, tried and tested them and only the ones that we really love have made the cut.
Brooke & Shoals
Multi award-winning Irish brand Brooke & Shoals is synonymous with the gold standard of luxury gifting. Based in Greystones, Co Wicklow, they tick all the boxes when it comes to luxury gifts that smell amazing, create Irish jobs and have a lower carbon footprint than many other brands in their sector. Their range comes in candles made using only natural wax, diffusers, hand wash and hand lotion in scent favourites such as White Lily Ylang Ylang, Elderflower, Rhubarb & Rose, Sweet Pea & Tea Rose, Grapefruit & Lemongrass, Lemon Verbena & Bergamont, Saffron Patchouli & Oud, Sandalwood, Vanilla & Salted Caramel. But it's this year's festive range that has captured our hearts.
The Frosted Ginger & Winter Berry candle is divine and come in ready to gift packaging to make life as easy as possible.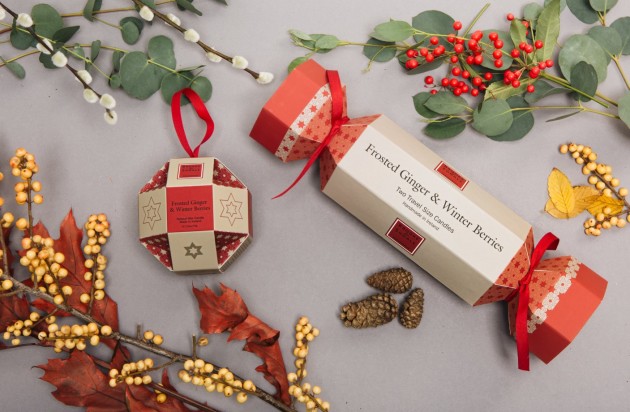 The Cinnamon & Cedar candle evokes memories of Christmas with a scent so familiar that it's like a Christmas hug in the home.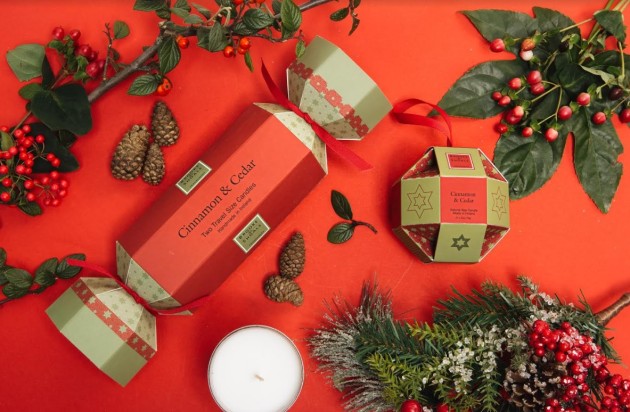 Both are available in a reed diffuser to fill your home with festive spirit.
Scented candles RRP €20 and diffusers RRP €29
Available from over 300 stockists nationwide including Meadows & Byrne, Carraig Donn, House of Fraser. Buy on-line at Brook & Shoals or pop into the shop in Greystones where they have the most divine gift-wrapping service.
Jane Darcy
Created by young Irish mum Gillian Halpin, 'Jane Darcy' is a range of scented candles and room diffusers available in a selection of fragrances including French Lavender & Lovage, Kaffir Lime Basil & Blood Orange, Zesty Lemongrass & Bergamot. These luxury scented candles are made from 100% natural soy wax and boasts a 10% parfum concentration which is notably higher than most luxury candles on the market. Each candle and diffuser is packaged in a luxurious gift box and finished with a hand tied gift bag accompanied by a complimentary box of matches and a personalizable gift card, making it an ideal gift for someone special.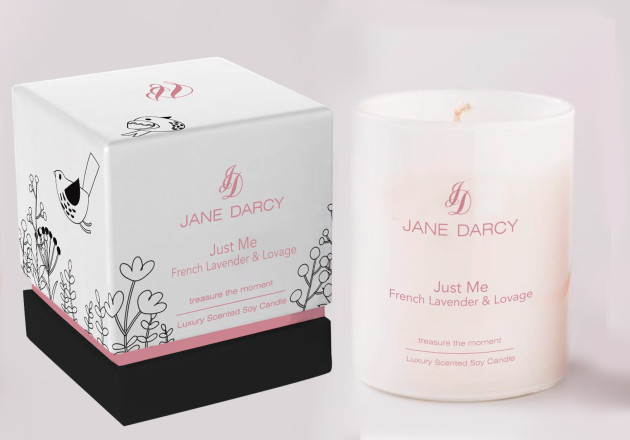 RRP €30 for candles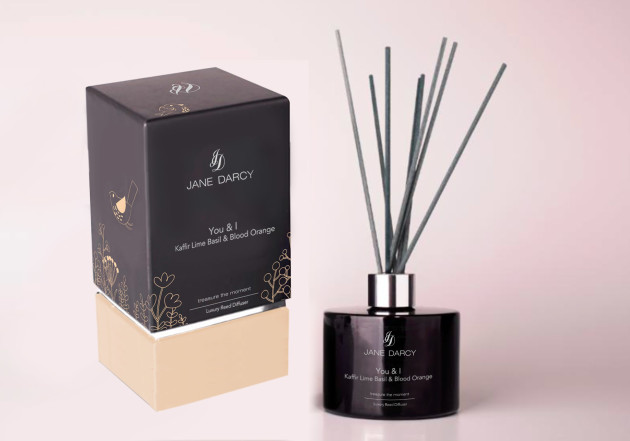 RRP €35 for diffusers
Available from Jane Darcy and in selected retailers nationwide.
L'Occitane
L'Occitane is a familiar brand for their well-known natural beauty scented hand creams and body lotions but their candles are not always top of mind. This year, they have four candles in their gifting range – choose from:
Relaxing Candle – Relax with the long-lasting scent of lavender from Provence combined with sweet orange, bergamot, mandarin and geranium.
Harmony Candle – a candle with the scent of Provençal woods with a blend of cypress, thyme, eucalyptus, juniper and ylang-ylang essential oils, to bring a feeling of harmony.
Uplifting Candle – a candle with a delicious scent that leaves you smiling and feeling good inside. Made with the essential oils' immortelle, basil, cypress, eucalyptus and litsea cubeba, they come together in a fragrance that's deliciously aromatic.
Revitalising Candle – a fresh and invigorating candle blending scent of mint, pine, rosemary, sweet orange and litsea cubeba.

RRP €22
Available in-store or online at L'occitane
Aroma Works
Aroma Works source natures finest soy wax to make their candles, while the aroma delivered by our 100% pure essential oils envelops in the scents of purity. There are four fragrances in the Aroma Works range:
Nurture Candle is a rich and fruity, luxurious blend of 5 essential oils. It has a fresh top note of may chang with the sweet, fresh scent of roman chamomile and the soothing aromatic base of Sandalwood.
Serenity Candle has a citrus, yet warm fragrance of lemongrass that will energise your mind and body whilst at the heart of this blend, the exotic floral beauty that is neroli, will serve to restore your emotions and soothe away stress.
Soulful Candle is complex and exotic. It is a soulful blend that brings together 7 essential oils. Top notes of spicy frankincense and fruity juniper berry provide a deeply calming sensation to soothe jangled nerves, whilst the fragrant base notes of patchouli help to ease away fatigue, providing a truly warming and relaxing experience.
Inspire Candle has a warming fragrance which combines top notes of spicy black pepper and fruity, sweet juniper berry with the freshness of uplifting lime. At the heart of this delicious blend, geranium adds a soft calming element.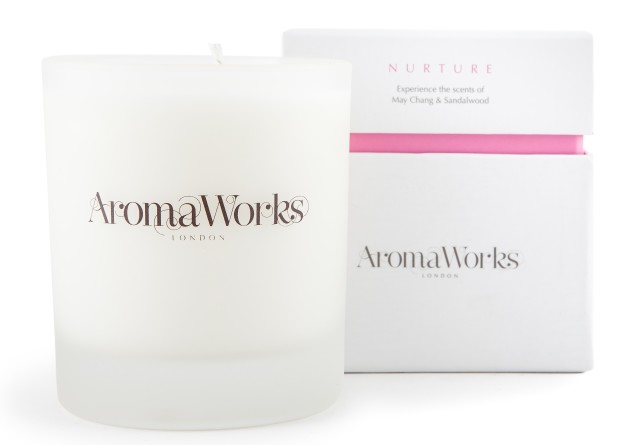 RRP €38
Available in good pharmacies or online at Cosmetics Online
Jo Browne
Jo Browne is a qualified reflexologist and holistic therapist with a passion for essential oils and their natural healing and revitalising benefits. Founded in 2016, the brand's original foray into natural beauty products saw the launch of Jo Browne natural solid perfumes for men and women.
The brand has added a new Bamboo Aroma Diffuser to its range of all-natural skincare and perfumes, handmade in Ireland. With light therapy that can be fixed to one colour or turned off, Jo Browne Aroma diffuser uses cool mist so never gets hot and is so easy to use, simply plug it in, lift up the cap, add water to the max line and 3 drops of your favourite Jo Browne Blends of which there are 6 available: Fresh Blend; Calm Blend, Breathe, Sleep, Signature and Christmas.
RRP €75.00 for the diffuser and €20 for each of six blends
Available from Meadows and Byrne, Kilkenny Shop, McElhinney's, House of Ireland and independent gift shops and online at https://jobrowne.com
The Conscious Store – Irish Forest Candle
The Conscious Stores candles are hand-poured in small batches and made with love in Tipperary. The range includes Lavender Field, Plum & Rhubarb, Fig & Cassis, Rose Garden and Bluebell Woods. But it's the Irish Forest that we fell in love with – it's a deep fresh scent of fresh fir needles, cedar and musk and a hint of wildflowers. These beautiful candles are made with natural, renewable soy wax, a touch of coconut oil, cotton wicks and a mix of high-quality fragrance and essential oils. The packaging and labels are made from recycled paper and the glass jars are recyclable.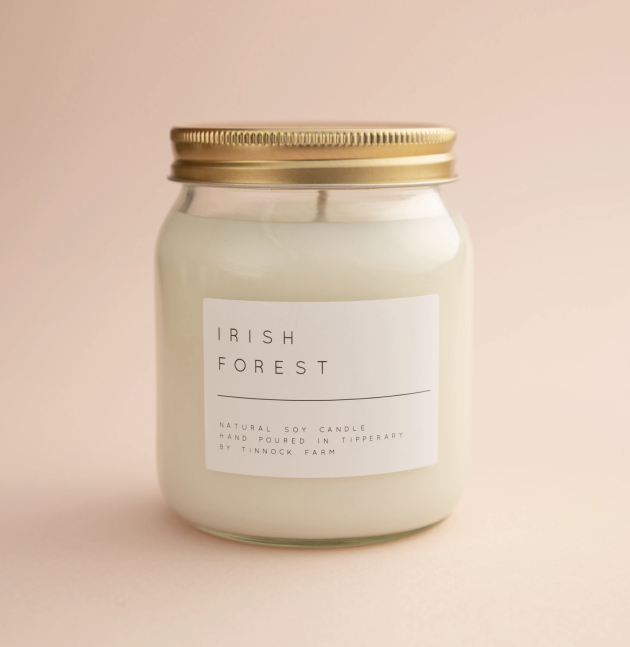 RRP €25
Available in The Conscious Christmas Store on 13 Fade St, Dublin 2 or online from TheKind.co
Green Angel Pure & Organic
Green Angel have taken their many years' experience of candle making blending premium oils and fragrances to create a distinctive, luxurious and relaxing range of reed diffusers to fragrance your home in a safe and natural way. Their candles are as natural and organic as possible with no harsh chemicals, no artificial colours, no paraffin, no mineral wax and are ethically sourced too.
Both of Green Angel's candles & diffusers are available in two different scents. The White Linen fragrance has a fresh, powdery linen top notes, floral heart of rose and muguet accords over a woody, musky base. The Lime & Lemongrass fragrance has a fresh vibrant juicy fragrance with cool West Indian lime heated by hints of Jamaican ginger and aromatic lemongrass.
RRP Candle €19.95 and Diffuser €29.95
Available from the Kilkenny Shop, Avoca, Shaws, Meadows & Byrne and leading pharmacies and lifestyle shops nationwide. Alternatively buy online at www.greenangel.com
Emma's So Naturals
For winter wellness, Emma's candle range wraps you in an invisible blanket of sensory spiced comfort. Working from the countryside in Louth, it's possible with handmade candles to put a lot of love into the process. Not only this, Emma Fallon infuses each candle with an original blend of pure essential oils in a base of soya wax (palm-oil free). Her creations are clean burning for hours on end creating a beautiful atmosphere in your home.
Her core range includes fragranced candles including scents such Basil, Lime & Mandarin, Lemongrass, Lavender, Harmony, Masala Chai and Pacific Ylang-Ylang but none are so strong that they will overpower the room. However, it's her Spiced Orange Candle that we fell in love with. It evokes the warmth of the Irish home in winter with its uplifting blend of orange, warming benzoin, spicy ginger and festive frankincense.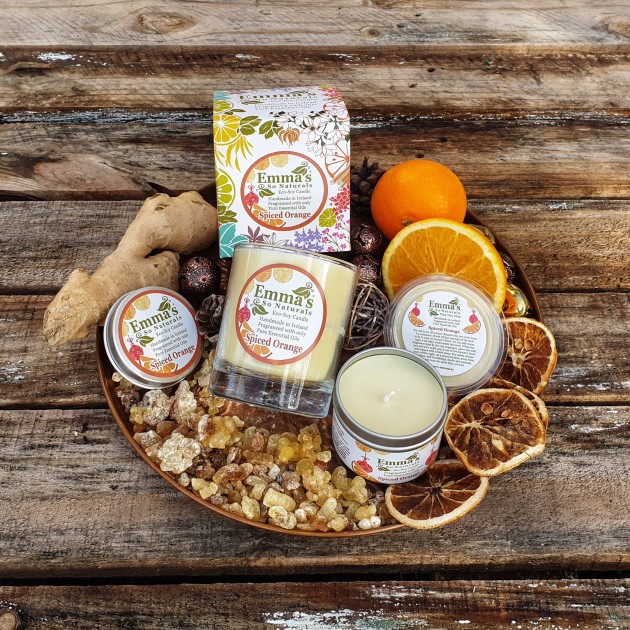 RRP The Emma's So Naturals' Glass Tumbler Candle comes in an Irish designed uniquely floral box, priced at €19.50, Travel Candle Tins retail at €10.50, Wax Tart Melts at €4.95
Full list of stockists or available from www.emmas.ie
Voya
The Voya Ginger Chai & Mandarin natural scented candle releases the evocative warmth and awakening of spring. Containing top notes of ginger chai and spicy cinnamon that disperse from its fresh Brazilian mandarin heart and smoothed over with buttery Madagascar clove oil, the warm rich under tones of spice soften an abundance of fresh citrus scents to ensure you enjoy a positive pick me up and a real sense of emotional wellbeing.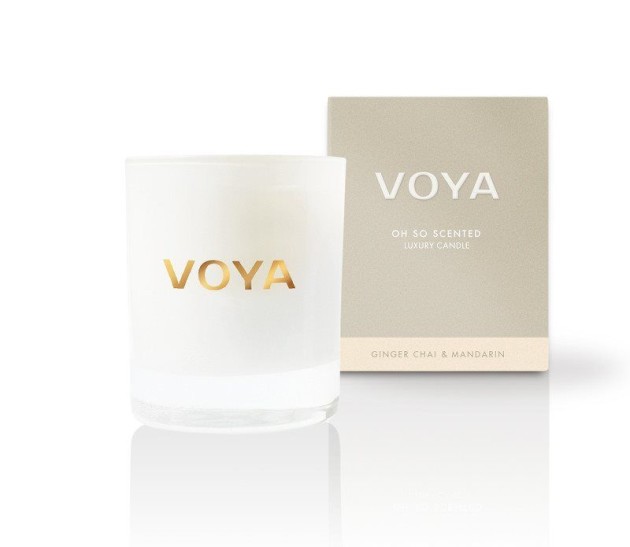 RRP €27
Available in Kilkenny Stores or online at Kilkenny Shop
Jo Malone
If budget isn't an option, then Jo Malone has a new fragrance for Christmas 2019. It's the Orange Bitters candle. Take a dash of sweet orange and a burst of ripe mandarin. Finish with a splash of bitter orange to reveal rich prune and a base of sensual sandalwood and amber.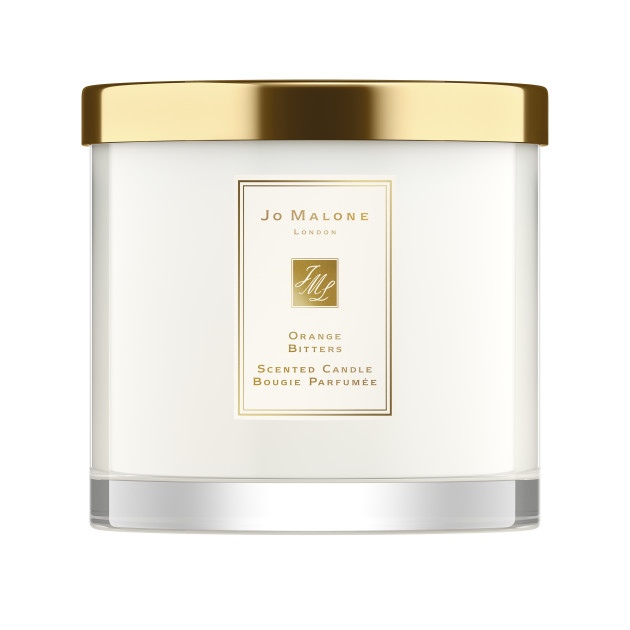 RRP Deluxe Candle €150 or Home Candle €52
Available from Brown Thomas