As a healthy breakfast or a tasty snack, granola has to be one of our favourite foods!
While store-bought versions can get quite pricey, none of them can even compete with homemade granola.
We have made this recipe over and over and we seriously think it is the best you can find. And believe us, no need to be a chef to get it right.
When your granola is cooked, let it cool down, add some toppings of your choice (if you fancy it) such as chopped chocolate, goji berries or dried cranberries, then store in a jar and enjoy!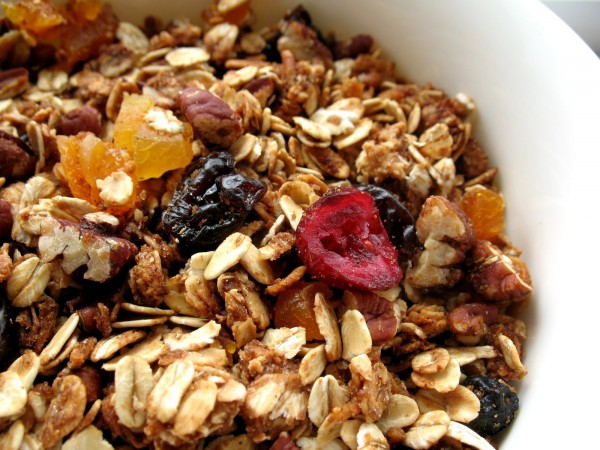 The best ever granola
Ingredients
300g rolled oats (you can use porridge oats but it's better with rolled oats)
200g nuts (whatever you can find, pecans, walnuts, hazelnuts, cashews, almonds…), roughly chopped
50g seeds (sunflower, chia, sesame, pumpkin)
2 tbsp coconut oil, melted
5 tbsp honey or maple syrup
1 tsp cinnamon
1 tsp vanilla extract
1 tsp sea salt flakes
Method
Place parchment paper on a large baking sheet. Heat the oven to 150°C.
Place the rolled oats, chopped nuts and seeds in a large mixing bowl and mix.
Add the melted coconut oil, maple syyup and vanilla extract and mix well until the oats and nuts are well coated.
Add the cinnamon and sea salt flakes and give it a last stir.
Transfer onto the baking sheet and spread to create an even layer.
Bake for 10 minutes, then stir and bake for a further 10 minutes. Mix again and bake for a further 5 to 10 minutes if needed. You want the oats and the nuts to turn into a nice golden colour.
Remove from the oven and let cool completely before transferring into a clean jar. It can keep up to one month but let's be honest, it will be long gone.
Chef's tip: keep a close eye on the tray when it bakes as nuts burn really easily.
.