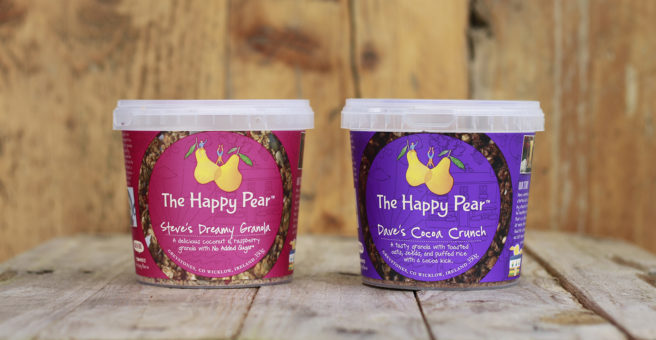 The Happy Pear lads have launched new granola and we're addicted
We don't know about you, but here in the SHEmazing! HQ, we love granola with a passion.
Whether we use it as topping on our morning porridge, with yoghurt as a yummy dessert, or simply as a tasty little nibble, it has become a part of our every day diet that we don't feel guilty about.
So when the Happy Pear announce the launch of two new granola recipes, we are first in the line to try them!
After the popular Cool Jim's Granola, which contains cashews, coconut, raisins, and goji berries, the energic duo has come up with two brand new flavours to mix things up a little.
Free from any artificial ingredients, Dave's Cocoa Crunch is a delicious mix of oats, sunflower seeds, coconut, and cocoa powder. Dave created this granola to honour his inner child – when he was a kid he always wanted to eat chocolate-tasting cereals for breakfast, but his mom wouldn't let him.
Also a great source of fibre, Steve's Dreamy Granola is made with oats, seeds, nuts, coconut, and raspberries. This is Steve's low sugar version of granola Nirvana! Both flavours are available now in SuperValu and selected independent foodie stores nationwide.
Because the two brothers have always had a super-competitive mindset, they have had the idea to ask the public to decide who makes the best granola! Will Dave be crowned a granola guru, or will Steve's gorgeous granola beat him to the granola punch (…of flavour)?
Details of the brekkie battle, as well as how to win free granola, will be released across The Happy Pear social media channels next week, so stay tuned!