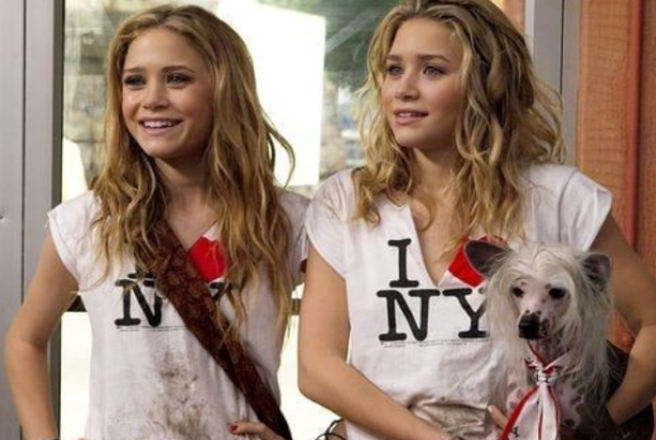 Can you actually believe that Mary-Kate and Ashley are legitimately 33-years-old? We can't quite hold onto our grasp of reality, because whenever we picture the famous child actresses, they're baby twins.
We spent much of our childhoods following their rise to adolescents, from becoming the youngest ever producers at the tender age of six to starring in hit teen movies to eventually slaying the fashion industry.
We simply love to live in the past, so we're reflecting on some of their cinematic golden moments on-screen, most of them involving boyfriends.
They jetted around cities like Paris, Rome, London and Sydney for seemingly no reason, they always seem to get dates out of nowhere and end up in the most random celebrity situations.
While having the best style ever, too. God, we were desperately jealous of those twins…and still are. They're fashion designers now, with a fortune between them. Talk about living the dream.
1. Passport To Paris: THAT Eiffel Tower dinner
Passport To Paris was a pretty strange movie, but one of the Olsen twins' most envious moments was when they enjoyed an unsupervised dinner atop the Eiffel Tower with two gorgeous boys.
13-year-old Melanie and Allyson Porter end up in police custody for trespassing after dining with Jean and Michel, but they eventually get the Embassy clean drinking water so Grandpa Edward accepts them again.
As tweens, all we wanted was to live in a Parisian embassy and dine on top of landmarks with beautiful French boys, but shockingly that didn't end up happening for us…
2. Our Lips Are Sealed: The theme park scene
Remember when Mary-Kate and Ashley hung out at Australia's Luna Park after hours?! With handsome young men?! Yeah, we do too. We were green with envy.
Sisters Maddie and Abby Parker are put in the FBI's Witness Protection Program after they see a robbery at the local museum, and witness the priceless Kneel Diamond being stolen.
They get to go all around the world as a result of their lack of secrecy, and end up in Sydney before tackling two assassins and defeating the gang.
We wanted to do that so badly, we literally tried to witness crimes as kids to get the same plot-line.
3. Holiday in the Sun: The private jet to the Bahamas…just because.
The Olsen twins are from Illinois, but are whisked away to the Bahamas on a PRIVATE JET by their parents for winter break, and are disappointed because they wanted to go to Hawaii with their friends.
We're stunned at how privileged this is, in hindsight, but still extremely jealous. They got to go to the Caribbean and film scenes with Megan Fox, so we're not jealous at all. Not even a little bit.
4. New York Minute: The Simple Plan music video
Once again, how can you just stumble into a Simple Plan music video? Just by living in New York, perhaps.
Jane and Roxy Ryan are teenage Long Islanders and end up in a rake of mad situations when they head into Manhattan instead of going to school.
Studious Jane needs to give a speech to gain a vital scholarship, while carefree Roxy wants to track down her favourite rock band. Their school's truant officer is trailing behind though, remember Eugene Levi?
We were obsessed with the looks that came out of this movie, remember their 'I Love NY' matching t-shirts and red skirts? Jane's pink blazer and Roxy's badass hats and rock chick outfits? We're still into it.
Not to mention the love interests they continuously managed to act with, like Riley Smith and Jared Padalecki in this case. Stunning men, stunning outfits, stunning movie.
5. Billboard Dad: Getting to write your special message on a billboard in the dead of the night
As if it wasn't enough to live in a surfing town, have the coolest sculptor ever as your dad, AND be amazing at diving, the Olsen twins got to make their very own billboard.
Emily and Tess Tyler are desperately trying to get their widowed dad, Max, a girlfriend. They decide to put up an advertisement in the middle of the night on a billboard, like Banksy but make it fashion.
We asked our parents if we could paint our own ads, and they laughed for about 27 years before shooting it down. Harsh.
6. Switching Goals: Becoming co-champions of the youth soccer league
13-year-old identical twin sisters Sam and Emma couldn't be more different, with Sam as the star soccer player and tomboy, and Emma as the polar opposite girly girl. They always seem to be either fiercely tomboy or insanely girlie. don't they?
Their father Jerry is one of the soccer coaches, and is pressured to pick Emma for the Hurricanes team by his wife, Denise. Sam ends up on the Buzzards team, which hasn't won in years, and Sam must share the spotlight.
In the finals, Emma realises she's actually unreal at goal-keeping (random?) but must block Sam's kick. The game ends up as a tie, and the gals become co-champs. Sam gets a date with Greg, and Emma goes out with Richie, so everyone wins.
7. Getting There: When they get a MUSTANG for their 16th birthday and went on a road trip with friends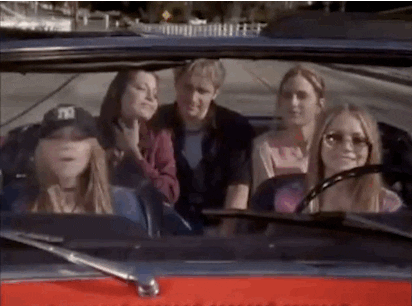 Imagine our parents let us drive cross-country with our friends on a hugely expensive road trip when we were sixteen? Not to mention getting a Mustang for our birthday.
What, and I can't stress this enough, the f*ck did they do to deserve such glory? Well, they are the coolest twins on the planet, and I'm saying that as an identical twin myself.
Sisters Taylor and Kylie head to Salt Late City with their friends for the 2002 Winter Olympics (again, WTF) and their car unfortunately gets stolen on the way there. The teens take a coach from LA to Vegas, but get separated at a petrol station.
Kylie gets to Vegas, and ends up at a wedding, while Taylor ends up in a horse town, but meets a millionaire named Charly with a private jet. As you do. Taylor ends up skiing and spending the day with her Olympic crush, Alex Reisher. Of course she did.
There were hundreds of iconic Olsen Twins movie moments, but those are probably our favourite and most absurd. (We're still not over the fact that they had a pet kangaroo in Our Lips Are Sealed.)
Feature image: Instagram/@iamandco