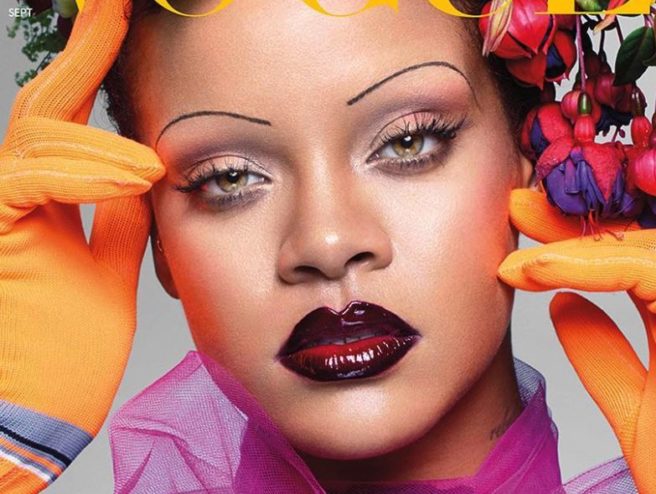 RiRi is the first black woman on British Vogue's September cover
Rihanna has smashed stereotypes, broken down boundaries and blazed trails since she first exploded onto the scene over a decade ago.
So it's no surprise that she's gracing the September issue of British Vogue, and making history while she does it.
In the 102 years since the publication began, there has never been a black cover star for the September issue…until RiRi, of course.
This landmark event is all down to the magazines new editor-in-chief – the insanely talented Mr Edward Enninful.
As he explains in his Editor's letter, ''I always knew it had to be Rihanna.''
The cover and whole photo shoot are bursting with colour and vibrancy thanks to photographer Nick Knight, and we can't not mention the fab 1930's/1990's super-thin brows that Rihanna is rocking.
While we've burnt any photographic evidence that we ever had brows like that, she simply looks unreal.
In the mag, the 30-year-old gives advice on dating and dishes on being a diva and her link to the Royal family.
Edward gushed about his cover star, ''[she is] a fearless music-industry icon and businesswoman, when it comes to that potent mix of fashion and celebrity, nobody does it quite like her. No matter how haute the styling goes, or experimental the mood, you never lose her in the imagery. She is always Rihanna. There's a lesson for us all in that. Whichever way you choose to dress the new season, take a leaf out of her book and be yourself.''
Vogue USA has also embraced diversity with the appointing of Beyonce as a guest editor.
It's about time! Thanks for picking #TylerMitchell – we can't wait for what is going to be a beautiful and important September issue! – Beyoncé has chosen Vogue's first black cover photographer in its 126-year history. https://t.co/iZRk0wfyWq via @artsy #beyoncé #voguecover

— Boulevard (@blvrdvr) August 1, 2018
According to RollingOut, Queen Bey ''will make history at the publication by insisting that Tyler Mitchell, 23, photograph her for the cover. It will be the first time that Vogue has hired a black photographer to shoot its cover during its 126-year history.''
Great news for the iconic magazine – let's hope other publications soon follow suit.
So grab your copy of the stunning September issue on August 3rd – we know we will be!