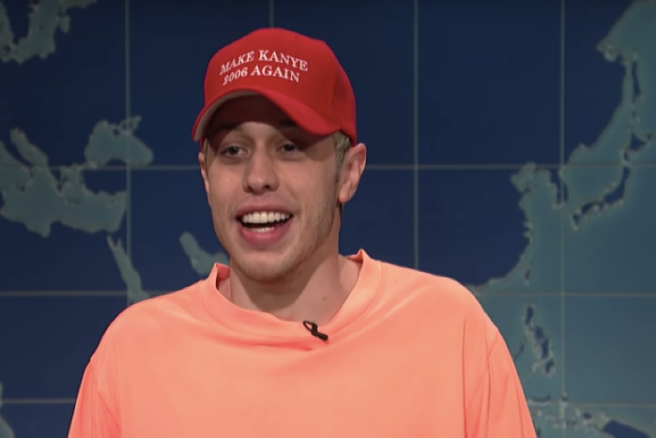 Pete Davidson sends cry for help after Kanye West vs Ariana feud
Pete Davidson has spoke out about his currently struggles with mental health, following Kanye West's online Twitter feud with Drake.
The feud between the two rappers involved Kim Kardashian of course, and was honestly just drama overkill.
It mainly involved Kanye ranting about Drake's seeming penchant for targeting rappers with mental health issues, and escalated fairly quickly.
After Davidson's ex-fiance Ariana Grande had posted a message to Twitter which offended Kanye's mental health, the SNL comedian uploaded his own worrying message;
Pete Davidson just posted this on his verified Instagram account. If you know him, I hope you'll give him the love and support he needs. If you don't, you can still give him support. https://t.co/osNU2MdppU pic.twitter.com/IIlfC38BqY

— Yashar Ali (@yashar) December 15, 2018
"I really don't want to be on this earth anymore. I'm doing my best to stay here for you but I don't know how much longer I can last," he wrote.
"All I've ever tried to do was help people. Just remember I told you so."
Even Nicki Minaj had to have her say;
Davidson has been open about his difficultly with borderline personality disorder, and has now spoken out to praise Kanye West's candid honesty on the matter;
"Bravo Kanye West for standing up for yourself and speaking out against mental health," he wrote on Saturday.
"I can't explain to you enough how difficult and scary it is to be honest about stuff like this," he continued.
The 25-year-old added, "We need people like Kanye."
"No one should ever point fingers at you for your bravery in speaking about mental health," he added. "I'm seriously disgusted."
While he never mentions Grande by name, we're fairly positive he was addressing her tweet regarding the Drake/Kanye drama.
guys, i know there are grown men arguing online rn but miley and i dropping our beautiful, new songs tonight so if y'all could please jus behave for just like a few hours so the girls can shine that'd be so sick thank u

— Ariana Grande (@ArianaGrande) December 14, 2018
Kanye responded to Ari's comment by saying;
""I know Ariana said this to be cool and didn't mean no harm but I don't like even slightest level of slight commentary from someone I know loves and respects me." Yikes.
Grande later apologised for possibly triggering West but also made sure to defend herself.
"With all due respect, I don't need to use anyone to promote anything. Period," she wrote.
"I was making a comment about what men were doing at the time vs. women. It was a joke which I understand now was probably insensitive."
"I apologise if I was in any way triggering and hope you feel well today. Last thing. Stop weaponising mental health. Everyone."
imagine https://t.co/jfvbgwQg2M

— Ariana Grande (@ArianaGrande) December 14, 2018
Ari dropped her new single Imagine on the same day that Miley released her new Christmas song with Yoko Ono, and was later accused of using the feud as publicity.
While we agree with Ari that she most certainly doesn't need publicity, it appears clear that Davidson's mental health needs some care.
Both West and Davidson are showing candour regarding mental health awareness, something we all need to support.