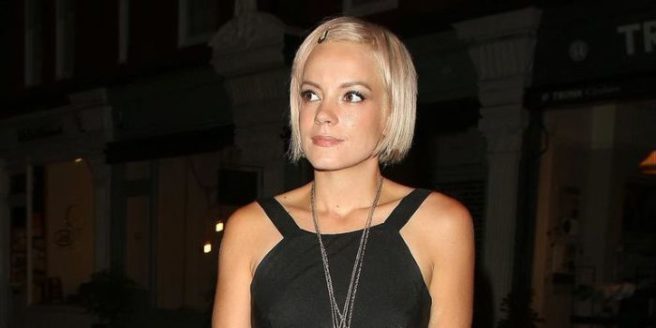 Lily Allen accused of 'glamourising' drug use after controversial tweet
Twitter users have accused Lily Allen of 'glamorising' drug use after she posted a photo of herself being carried away from an award ceremony after accidently taking ketamine.
The singer shared the pictures, which were taken at the 2008 Glamour Awards, in response to a follower who asked her to give "the best reason you've kicked out of an event, building or group."
"Someone gave me a line of what I assumed to be cocaine at the Glamour awards once, but it turned out to be Ketamine. I was thrown out (passed over some railings) of the Glamour awards for being in a k hole," she wrote.
— Lily Allen (@lilyallen) May 13, 2018
She went on to explain how the security guards removed her from the venue put her into a taxi.
Unable to direct the driver, Lily's assistant instructed her brother Alfie Allen and chat show host Alan Carr to follow in the car behind.
Obviously I couldn't talk, or direct the driver so my assistant instructed the occupant of the car behind to "follow that cab" I believe the occupant was @chattyman , I have no idea what happened next.

— Lily Allen (@lilyallen) May 13, 2018
When asked if he remembered the night in question, Alan Carr was able to pick up where Lily left off.
I followed in the car behind with her brother Alfie – but we some how got there before her but then she was put straight to bed and I remember helping myself to a vodka and chatting with Alfie and @samsparro most of the night

— Alan Carr (@AlanCarr) May 13, 2018
Many Twitter users were quick to criticise the photos, with many suggesting that Lily's experience was nothing to be proud of.
Is this really something to glamorise/ be proud of?

— Amy G (@amyntravels) May 14, 2018
How disappointing then that you tweet comments as earlier. Do you not even comprehend your role in many young girls lives. Tweet your loving thoughtful & generous moments NOT your flaws in future

— Andy Applewhite (@Andy_Man_Utd) May 13, 2018
However, others offered their support for the star who has openenly stuggled with drug and alcohol abuse in the past.
It's so good to know that you are clean now You're a great great artist and an inspiration for me to keep true to myself and to what I believe in

— marcos (@cosmarsena) May 14, 2018