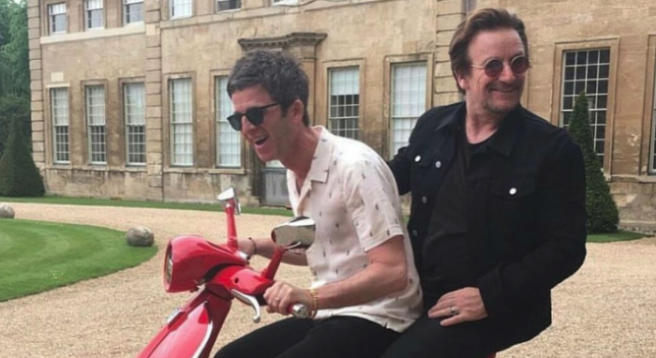 Legit ALL of the celebs had the best time at Noel Gallagher's 50th
Well, it was certainly a birthday party to remember.
The infamous Noel Gallagher celebrated his 50th birthday last weekend, and it couldn't have been more star-studded.
The guitarist had a Narcos-themed bash (standard) and among the guests were Bono, Michael Fassbender, Alicia Vikander, Madonna, Stella McCarthey, David Walliams, and many, many more.
The music, the drinks, and the social media snaps were flowing all night long and it certainly seemed like everyone had a great time:
Worlds collided at Noel Gallagher's birthday Bash! pic.twitter.com/7E4YkY06bc

— Madonna (@Madonna) May 28, 2017
#PHOTO Alicia Vikander and Michael Fassbender at the birthday party of Noel Gallagher today. pic.twitter.com/jQVDaiV6BS

— Alicia Vikander News (@avikandernews) May 29, 2017
Bono having more fun at Noel Gallagher's birthday party! Photo via @bonojour. pic.twitter.com/A4ntO9HGTh

— U2start.com (@U2start) May 29, 2017
Happy 50th brother and what a weekend it was. Big love always @NoelGallagher xx pic.twitter.com/ThImhllsoG

— Jeff Wootton (@jeffwootton) May 29, 2017
#NoelGallagher yesterday at his 50th Birthday Party.

Photo by @dwalliams

@noelthegoodrebelofficial instagram pic.twitter.com/oD7SxdswDT

— Noel the Good Rebel (@aka_themightyi) May 28, 2017
The party's starting soon!

Photo by @toricooki
@poppydelevingne#NoelGallagher

@noelthegoodrebelofficial instagram pic.twitter.com/XDPCbUU61M

— Noel the Good Rebel (@aka_themightyi) May 27, 2017
@NoelGallagher Happy Birthday Noel Gallagher! pic.twitter.com/V9Az02prbE

— oasis world (@myoasisworld) May 28, 2017
Via @helenachristensen
"Rock royalty"#Bono & #DamonAlbarn at #NoelGallagher's birthday party!#U2 #U2NewsIT @U2 @Damonalbarn @NoelGallagher pic.twitter.com/ziiEN0WnUT

— dani mattei (@daniDpVox) May 28, 2017