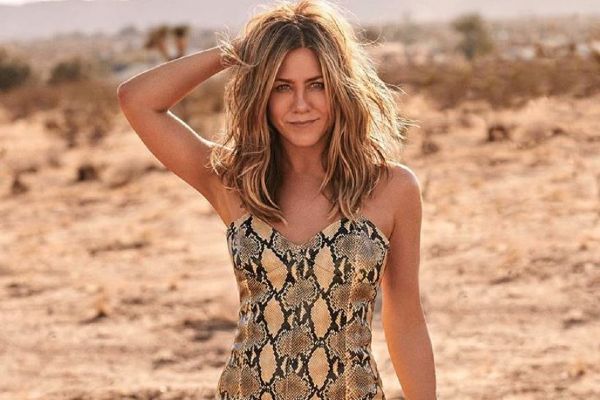 Jennifer Aniston opens up about wanting a baby at 49
Jennifer Aniston has had her fair share of headlines over her lengthy career in TV and movies.
But now, on the cusp of hitting her milestone 50th birthday, she says that she is perfectly content with how her life is – and her career is certainly going from strength to strength.
She sat down with ELLE magazine to open about her life, love and how she's won't let her age get in the way of having a family.
The public's fascination with her
The media have been obsessed with Jennifer since her days of Friends – when is she getting married? Is she pregnant? When will she get pregnant?
She believes that using marriage and children as the ultimate marker of female happiness is a way to disempower successful women.
She says, ''What quantifies happiness in someone's life isn't the ideal that was created in the '50s. It's not like you hear that narrative about any men."
She added, ''Why do we want a happy ending? How about just a happy existence? A happy process? We're all in process constantly.''
Womanhood
Jennifer is keen to make sure that women know that they have other options – that being a wife and mother aren't the only ones.
She said, ''We live in a society that messages women: By this age, you should be married; by this age, you should have children. That's a fairy tale. That's the mould we're slowly trying to break out of.''
How has the media's response to her not having kids affected her?
She said, ''It's such a shallow lens that people look through. It's the only place to point a finger at me as though it's my damage – like it's some sort of a scarlet letter on me that I haven't yet procreated, or maybe won't ever procreate."
Is a family something she wants?
She said, "Who knows what the future holds in terms of a child and a partnership – how that child comes in…or doesn't? And now with science and miracles, we can do things at different times than we used to be able to."
Her marriages
The actor has been married twice – to Brad Pitt from 2000 to 2005, and Justin Thereoux from 2015 to 2017.
She believes that her unions have been successful.
She said, ''When they came to an end, it was a choice that was made because we chose to be happy, and sometimes happiness didn't exist within that arrangement anymore."
Sure, there were bumps, and not every moment felt fantastic, obviously, but at the end of it, this is our one life and I would not stay in a situation out of fear. Fear of being alone. Fear of not being able to survive. To stay in a marriage based on fear feels like you're doing your one life a disservice.
Social Media
Jennifer is not a fan of social media – and for good reason.
She said, ''The one thing I have is maintaining this little circle of sanctity that's my own.''
She added, ''If I'm sitting here posting something about my dogs or I'm Boomeranging my coffee mug in the morning, that's just giving away one more piece of something that is mine."
Her relationship with her mum
Jen was famously estranged from her mum, former model Nancy Dow, for years.
She opens up about their strained relationship, which began when she was a kid and her mother was focused on Jennifer's physical appearance.
Jennifer said, ''It wasn't her fault, it's just the things she would teach me…It didn't instil a lot of security about how I felt about my physical appearance."
She continued, ''I think she was just holding on and doing the best she could, struggling financially and dealing with a husband who was no longer there. Being a single mom in the '80s I'm sure was pretty crappy."
We're sure 2019 will be another stellar year for Jennifer – and that she will continue to live her life according to her own rules.