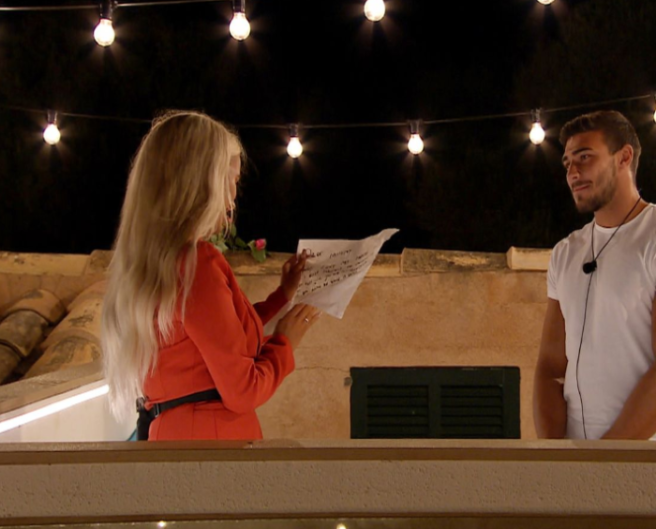 Ellie Belly for the WIN: Tommy asks Molly-Mae to be his girlfriend
Phew, we feel like we can barely take a breath during this season of Love Island.
Tonight's episode looks set to be full of tension and drama, as not one but TWO couples are dumped from the island and the fellow contestants deciding who will remain on the show.
Offering audiences a break from the dumpings, the pure-as-gold Tommy Fury asks Molly-Mae Hague to be his girlfriend using Ellie Belly (their baby elephant teddy) and we're on the floor.
FIRST LOOK

Maura comes clean to Amy, and Tommy puts his plan to make things official with Molly-Mae into action. It's looking like love is in the air… until a surprise dumping ruins the mood. #LoveIsland pic.twitter.com/RbHsPi1HTE

— Love Island (@LoveIsland) July 8, 2019
The duo are prepared to take their relationship to the next level and become the first official couple in a relationship in the villa. We can't cope.
Speaking with his villa BFF and newly-baptised menace, Curtis Pritchard, on the day beds, Tommy states: "I feel like now is the perfect time to call Molly my girlfriend. I feel it!"
The lads then head up to the terrace with Tommy picking up Ellie-Belly en route, the model's adorable teddy. Tommy and Curtis sprinkle rose petals over the terrace, and at this point we have heart failure.
can we take a moment to appreciate the way tommy looks at molly mae #LoveIsland pic.twitter.com/QqVvgJLrMl

—(@bbhlbaekhyun) July 3, 2019
We all remember the significance of Ellie-Belly, don't we? When Molly had left for Casa Amor, Tommy carried the teddy around like a lost puppy and we all almost CRACKED with the cuteness.
thinking about how molly mae thought tommy had changed his mind about her because ellie belly wasn't on the bed but in reality he'd been carrying ellie belly round for the last 3 days straight #loveisland pic.twitter.com/dlOdwdnjLx

— amy is a fan account (@buswelI) July 2, 2019
At the recoupling and dramatic return of the girls from Casa Amor, Ellie-Belly was missing from Molly's bed and she assumed he'd found somebody else and replaced her. In reality, he was glued to his wifey's cuddly toy.
Curtis writes a message in eyeliner (pens are banned in the villa, weirdly) tonight for Molly-Mae and attaches the note to Ellie-Belly before placing him on the terrace seat.
A nervous Tommy goes over his plan in the Beach Hut: "Asking Molly-Mae to be my girlfriend was single-handedly the most nervous I've ever been in my entire life," he says.
Tommy running down the stairs Changing his outfit to impress molly mae #tommyfury #loveisland pic.twitter.com/bTzome9lNN

— (@Biggboss12xo) July 7, 2019
Tommy then asks Molly-Mae for a chat (always a big move in the villa). He says "Ellie-Belly wants to tell you something. He told me to come and get his Mum."
Molly-Mae reads the message attached to Ellie-Belly, which says: "Dear Mummy. Daddy left me here in his best interests. He wanted me to tell you that you're his everything. I'm going to leave it with Daddy. So…"
Tommy then makes his speech; "On a serious note, you know how much you mean to me and you're the only girl for me. I only want to be with you. Therefore, I was wondering if you wanted to be my girlfriend?" he asks.
tommy asking molly mae to be his girlfriend with ellie belly. JESUS CHRIST tommy fury is the purest guy on the planet #loveisland pic.twitter.com/JVzxnWX2oI

—(@buswelI) July 8, 2019
The adorable moment brings a sense of relief to tonight's drama-filled episode, which will lead to four Islanders getting axed.
Anna Vakili's birthday bash will be interrupted by a text announcing the couple with the lowest votes from the public, who must leave the villa straight away.
The Islanders are sent another text afterwards that will announce the names of the next two couples in the bottom two, and the contestants will decide who stays and who goes. My GOD.
Feature image: ITV/REX