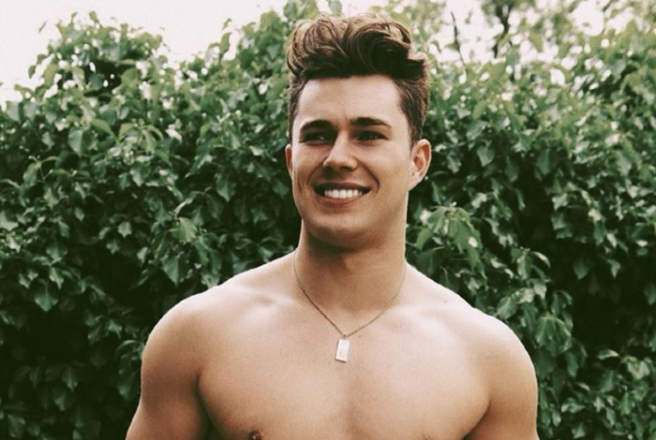 Curtis Pitchard doesn't owe us an explanation for putting on weight
Anyone who fat-shames Love Island-ers should be locked in a room with Lizzo twerking to Juice on repeat until they have learned their lesson…
Here's why:
Each and every one of us has experienced body-shaming at some point in our lives. Any of us who have been fat will have come across a myriad of imaginative insults that tell us it is wrong to take up more than our fair share of space.
However, if contestants of a show made for GORGEOUS people are getting shamed for taking up some extra space, there is no hope for the rest of us.
Unusually, the person at whom most the shaming was directed was a man. Curtis Pritchard is an elite ballroom dancer who spends 90 percent of his life training. He entered the villa with physical evidence of this. He left it- 8 weeks later- with physical evidence of BEING ON HOLIDAY. Let's be clear. No one, not even people pleasing Curtis, owes us an explanation or excuse for putting on weight.
Actually, the fact that he chose to let loose and enjoy himself on his holibops comes close to redeeming the questionable qualities he has as a person. He's normal. He's a human and his abs are not his sole reason for existing.
One thing I actually love is that @CurtisPritchard is a professional dancer, hes not got this mental, ripped, washboard abs body, and he looks absolutely AMAZING . Wish the dance industry would accept more people with curvy bodies, as I was constantly told to lose weight…

— Mairi Aitchison (@Mairi_Aitch) July 11, 2019
The 23-year-old has had to discuss his weight to the public as a result of the absurd media attention given to his calorie count, despite the emphasis on mental health issues as a result of reality television. It's often the exact same culprits who critique the islanders on their appearance that end up lamenting the suicide of a contestant or expressing empathy for a former star who has run into problems with depression or anxiety as a result of fame. The hypocrisy is honestly astounding.
The star shared his thoughts on the trolls in an interview when he came out of the villa; "'I'm not going to lie – I probably gained a couple of pounds. I won't deny that at all, but I enjoyed it, that's the thing. It's the first time I've just been myself. All the other lads were in incredible shape, I like to go up and down. When I'm dancing I'm up, when I'm enjoying myself I like to eat food." The buoying of somebody's weight is by no means uncommon, and it's brave of him to open up about his body when there was no need to do so. Frankly, the interviewer who brought up the public trolling about his 'gut' was being irresponsible by doing so.
Sad that in #LoveIsland'news' today, people are talking about islanders having gained weight. So? Their hair has probably grown and their skin tone changed too. Why does weight always require comment? It's not cool to #bodyshame ANYBODY. Leave @CurtisPritchard alone FFS

— Faye (@Fayebelina) July 28, 2019
The ITV show released a statement about cruelty online. Speaking to the Mirror Online, a spokesperson said: "It is incredibly irresponsible that any Islander would be body-shamed in this way and we would always discourage anyone from making appearance-based comments that could be hurtful to the islanders and their families. It is astonishing that there have been calls for body diversity yet an islander who has allegedly put on weight is now being trolled because of it." They're not wrong. The polarising nature of the show has led to a mixture of both criticism and abuse online, and it's not under enough control. Vitally, an increase in aftercare and fame training has occurred this year in order to protect the finalists from the onslaught of attention and career opportunities that are coming their way.
Like Maura, we think Curtis's tum is fab. Body positivity often comes from a female perspective, simply because women's bodies tend to be scrutinised more. However, that does not mean that lads won't benefit mentally from seeing a tummy (yes that's how low the expectation is) on national television. It is refreshing to see guys fluctuate in weight. We all know it happens because that's life, but we rarely see this kind of thing on a show as influential as Love Island.
It's also important to remember that many boys as young as 12 watched the show religiously as it ran over 8 weeks. Boys who are normally bombarded with images of ripped bods in a world where many are resorting to using substances to achieve this very specific look. Curtis and the other men in Love Island may unwittingly be doing society a favour by showing us the reality of having a normal human body that changes constantly.
Curtis received some extra trolling for his 'camp' mannerisms. His sexual orientation was questioned repeatedly by online bullies. These may or may not be linked, but it sure shows that the way a person chooses to carry themselves physically garners far more attention than their personality traits. For us, his silly advice and general two-faced-ness was an issue. His tum and flamboyant ways were nothing but refreshing in a world where you are criticised for simply being yourself.
Feature image: Instagram/@curtispritchard12