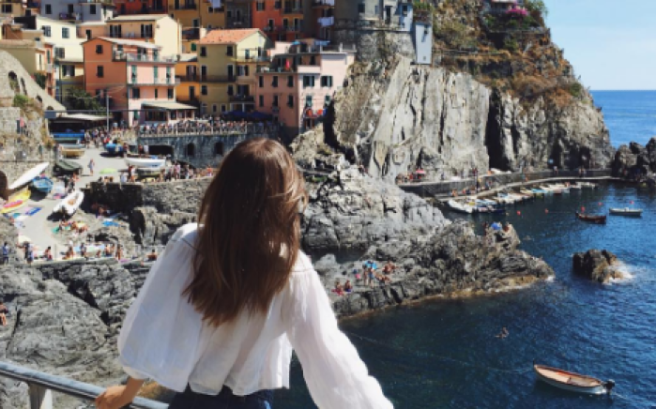 8 Instagrams that will make you quit your job and travel the world
The weather right now leaves a lot to be desired, so dreaming of distant lands is our new favourite pastime.
There are plenty of travel bloggers out there who live charmed lives, being paid to venture from exotic place to exotic place.
We've compiled a list of our favourites, who's sea and sun-soaked feeds are making us uber jealous.
1. Gypsea Lust
Probably the most famous of travel bloggers, Lauren Bullen travels the wide world with her equally as cultured boyfriend (who also happens to be a travel blogger).
Her Instagram is literal goals, showing off more exotic destinations and blue seas than you could ever dream of.
2. World Wanderlust
Brooke Saward is the author of travel tome World of Wanderlust and has the perfect Instagram to match.
Hitting all the best holiday destinations, this Australian twenty-something definitely isn't afraid to fly solo.
3. Kirsten Alana
Kirsten is a travel photographer, and her list of destinations is endless.
The unique and best thing about her Instagram page is the detailed descriptions of her travels which caption each striking image.
4. Daniel Kordan
Landscape photographer Daniel takes the most unique and surreal images of one-of-a-kind terrains.
You wont find your typical blue sea and cocktails snaps here, but intense and striking landscape imagery.
5. Madeline Joy Relph
Madeline's 'gram is so envy-inducing, we kind of can't stand to look at it.
The blogger has roamed through India, Morocco, Turkey and Bali, and that's just in the last few weeks.
6. Emilie Ristevski
If you prefer a more rustic take on travel photography, Emelie's 'gram is for you.
Emelie also regularly discusses her travels through her photo captions, so the snaps are informative as well as stunning.
7. Jessica Stein
This blogger has a massive following and a huge list of travel destinations on her feed to go with it.
The globetrotting travel guru makes the most of all of her trips, taking pictures of food, friends and amazing scenery.
8. Round the World Girl
This Insta pro stands out from the crowd with her account that promotes active living.
Be it rock climbing, hiking, cave diving or scuba diving, this girl never stops.