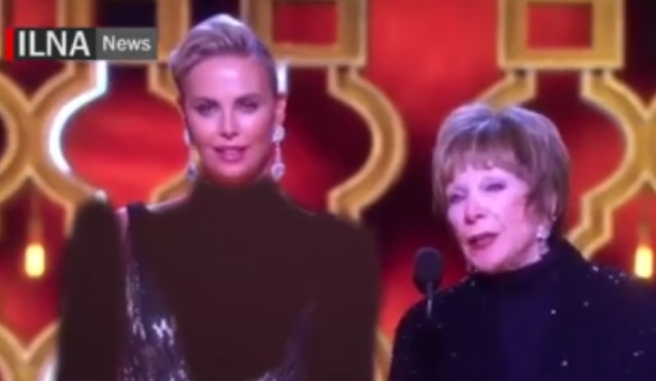 What? Iranian TV photoshopped clothes onto Charlize's Oscar look
This year's Oscars ceremony was one of the most talked about in quite a while, from that announcement blunder to the show stopping red carpet dresses.
While everyone was focusing on the La La Land/Moonlight mix-up, one Iranian TV broadcaster was focusing on something else entirely.
Charlize Theron was involved in announcing the award for Best Foreign Language Film, but her dress was apparently deemed inappropriate for Iranian television.
The TV producers at ILNA TV decided to photoshop an odd, lumpy black turtle neck top onto Charlize to censor her body.
The digitally engineered garment covered up her neck, chest and arms.
When then cameras moved and panned, the producers simply covered Charlize up entirely with a pixilated rectangle.
Iranian-American engineer Anousheh Ansari accepted the award for Best Foreign Language Film on behalf of director Asghar Farhadi, who was boycotting the awards in protest of Trump's US immigration ban.
Anousheh, who was dressed very modestly, still didn't make the cut, and had the sliver of shoulder that was visible in her dress censored as well.
"This is the Islamic Republic of Iran which forces girls as young as age seven to be covered up," reads a caption on the video, uploaded by My Stealthy Freedom, a women's rights group that campaigns for Iranian women to secure the right to choose to wear the hijab.
"While many of us, including Americans, are expressing our opposition to Trump's Muslim ban, we also have to be louder and clearer about our condemnation of Islamic Republic of Iran's ban on women who can't enter Iran without hijab."
"Women from all religions and cultures, many of whom are flogged and imprisoned inside Iran for not wearing 'proper hijab."