Major mix-up at Oscars as La La Land wrongly named Best Picture
And it was all going so well…
There was major confusion on stage last night at the Oscars when Bonnie and Clyde duo, Warren Beatty and Faye Dunaway announced the winners for Best Picture.
It seemed to be La La Land's night as the cast and crew walked to the stage to accept the big award of the night.
As the elated team behind this year's hit movie began their speeches, the impossible happened.
Yes, in a moment we thought only reserved for Steve Harvey, they announced a mistake had been made.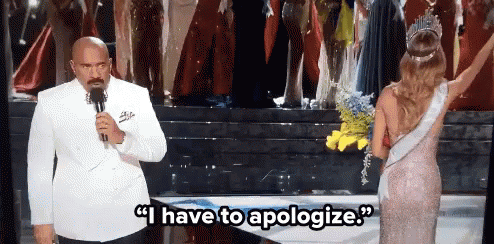 And just to make it even worse, it was La La Land's producer, Jordan Horowitz who had to announce the mistake and held up the card revealing the real winner – Moonlight.
As the audience burst into chatter, the team behind Moonlight made their way to the stage in what was a truly shocking Oscar moment.
Many of the stars present took to Twitter to share their shock also.
Why didn't the producers of the show rush to the stage when the wrong winner had been announced?! I feel bad for #lalaland producers AWKWARD pic.twitter.com/bs2S7rj325

— Jessica Chastain (@jes_chastain) February 27, 2017
What just happened?!?! MOONLIGHT!!

— Mary E. Winstead (@M_E_Winstead) February 27, 2017
WHAT WAIT OMG

— KATY PERRY (@katyperry) February 27, 2017
Maybe I won an Emmy one of the 5 times I lost! Anything is possible. Congrats to #Moonlight. An amazing and deserving best picture winner!

— Jesse Tyler Ferguson (@jessetyler) February 27, 2017
Yesssss!! #Moonlight cannot be denied… WINNER!! WINNER!!! WINNER!! @BandryBarry & the entire cast and crew CONGRATS! In tears, yes damnit!

— Gabrielle Union (@itsgabrielleu) February 27, 2017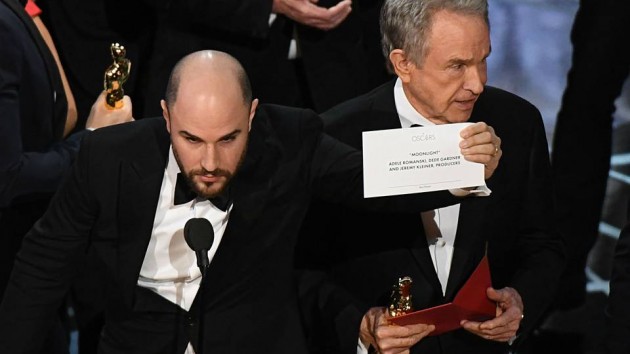 You know what the problem is — millions of Academy members voted illegally.

— Seth MacFarlane (@SethMacFarlane) February 27, 2017
Whaaaaaaa??!congratulations Moonlight! My favorite #Oscars in memory!!

— Oprah Winfrey (@Oprah) February 27, 2017
The LA LA LAND people were so classy. Amazing. Two great movies.

HOW MANY TIMES IS MOONLIGHT GONNA MAKE ME CRY

— Kumail Nanjiani (@kumailn) February 27, 2017
Taking to the mic after the mistake was announced, Warren Beatty said:
"I want to tell you what happened. I opened the envelope and it said 'Emma Stone – La La Land'. That's why I took such a long look at Faye and at you, I wasn't trying to be funny.
"This is Moonlight – the Best Picture"
We warn you, watch the footage through your fingers.