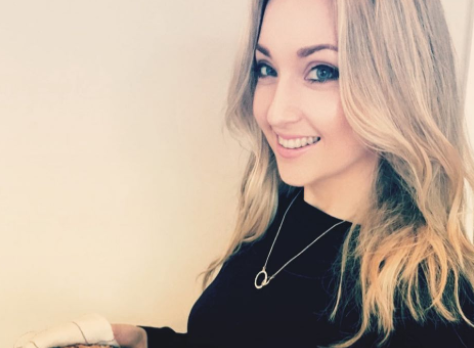 What I Eat in a Day: How pastry chef Aoife Noonan handles 24/7 dessert
Imagine that you are working in some of the best restaurants in the country, and your job is to come up with the most delicious ideas for desserts: that is the life of Aoife Noonan.
Previously Head Pastry Chef for the Michelin-starred Restaurant Patrick Guilbaud, the 28 year-old Dubliner is now Executive Pastry Chef at SMS Luna.
While we feel jealous that she gets to try all these delicious cakes and desserts, we also wondered how she manages to stay in shape.
Her secret? You might have guessed: she doesn't eat cake all day.
What is your typical weekday breakfast?
I always make the time to have a good breakfast. I start the day with a huge glass of water, then coffee, and usually eggs.
I love eating vegetables for breakfast, a favourite would be roasted beetroots, poached eggs, greens; usually kale or rocket, tomatoes and romesco sauce. So tasty!
Otherwise it's soaked oats or porridge with a mountain of various toppings like berries, nuts and seeds if I'm not feeling the eggs.
What about lunch?
Working in a kitchen all day means sometimes lunch is forgotten. I get peckish and start to pick at things otherwise, so a lot of the time I bring lunch with me.
I meal prep a few bits and pieces throughout the week so I always have things to throw together for lunch.
I love prepping lots of roast vegetables, sweet potato, squash, peppers, then have them in the fridge ready to go into a salad with chicken, tuna or chickpeas with some greens.
As a pastry chef, how do you manage to keep in shape?
I train in the gym four times a week. Being on my feet all day obviously ensures I stay active.
Eating well is so important and contributes massively to a healthy lifestyle.
Do you eat cakes and sweets on a daily basis?
Believe it or not, many are surprised to find I don't gorge on sweets all day! Being a pastry chef means I'm constantly developing, creating, and tasting, all day every day. It's my profession.
But I love savoury food and will choose savoury over sweet out of work. Obviously I have a sweet tooth or else I wouldn't do it for a living.
What do you usually have for dinner?
Dinner during the week is usually fairly simple, if I go to the gym in the evening it needs to be something quick to prepare so I can get it eaten soon after I come home.
I love chilli with brown rice and smashed avocado, or Middle Eastern spiced chicken with quinoa and hummus and lots of salad.
Is it different at the weekend?
Dinner at the weekend is much more laidback, and I can enjoy taking the time to cook. I love making a roast at the weekend, or eating out.
Do you snack during the day?
I try to eat every 3 to 4 hours, so I would snack on fruit; berries or melon and yoghurt, with pumpkin seeds and almonds.
I love nut butters, so eating them with something crunchy like quinoa cakes or crackers always hits the spot.
What would be your ideal food day?
Breakfast would be waffles and truffled eggs in Duck and Waffle in London.
Lunch would be a sort of Afternoon Tea/Lunch hybrid in the Ritz or the Shelbourne. Absolutely love it.
Dinner would be the tasting menu in the Ledbury in London.
The one food you could have everyday for the rest of your life?
Cheese. Obsessed.
What is your favourite dessert?
I love a simple Victoria Sponge. Soft fluffy sponge with cream and jam and a nice cup of tea, can't beat it.
What is your favourite meal of the day?
I love having a good breakfast and starting the day right. But my favourite meal of the day would have to be a long lazy lunch, like the French do.
When I lived in France I learned how much of a huge part of the culture it is. A few hours, a few courses, a few glasses of wine, good company, it's so relaxing.
Your favourite restaurant in Dublin/Ireland/the world?
My favourite restaurant in Dublin is Forest and Marcy. Ciaran is doing amazing things and every time I eat there I have an outstanding meal.
Outside of Dublin, I love the Tannery in Waterford.
One of the best meals I ever had was in Restaurant Jan in Nice, France. The chef is South African and fuses classic French with food from his native country. The combination of flavours and concepts and how he executed them were outstanding. I didn't want the meal to end.