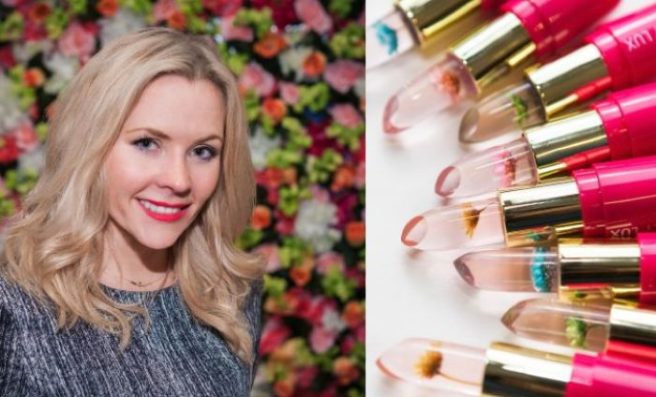 We chat to Natalie Mackey, founder of Instagram sensation Winky Lux
Natalie Mackey is the brains (and beauty) behind ground breaking brand Winky Lux.
With her Instagram-friendly packaging, clean formulas and affordable prices, the American entrepreneur has found the winning way to make her brand relevant and so covetable for the young, modern customer.
We sat down with the New Yorker to ask her about her beauty tips, some career advice and her proudest achievements as a successful girlboss.
Have you always been a beauty addict?
YES! I've always thought it was the most fun thing to shop for.
What made you want to launch a beauty brand?
I knew there was a market for whimsical luxury at a price that made sense.
What is your skincare routine?
I use DHC Cleansing Oil, followed by Pixie Glow Tonic then Strivectin Oleic Rapid Recovery serum. Lastly I put on the Winky Lux Dream Gelee.
What is your go-to make-up look?
I normally do a natural look that consists of White Tea Tinted Veil in Light, Peeper Perfect concealer in Light, Winky Unibrow Pencil, mascara (a new one launching in August!) and Winky Strobing Balm in Radiant Pink.
In the summer I typically dust Tarte loose finishing powder over it to last all day.
What about when you go out?
At night I will add MAC precision black eyeliner and Winky Lip Velour.
I love a bold red lip. I use the colour "Heart" in the winter and "Dirty Love" (which has more orange) in the spring and summer.
What products do you swear by?
The Winky Lux Peeper Perfect concealer is my desert island product. I never leave home without it.
I also love Commodity's new fragrance "Whiskey" and Frank Body Coffee body scrub.
Among all the amazing Winky Lux products, which one are you the proudest of?
The White Tea Tinted Veil is an amazingly light moisturiser that smells like a spa and has physical SPF 30. One of our customers wrote to us saying she never wore sunscreen until she bought the tinted veil because it's normally so sticky.
Considering that skin cancer is so dangerous I was proud that we made a product that made it fun for people to protect their skin.
All your products are cruelty-free and non-toxic. Is it because you are particularly concerned by environment issues or the health of your clients?
Yes to both! I am the ultimate test subject because I have highly sensitive skin and I use every product we've ever made. I don't want harsh chemicals on my face so I wouldn't expect our customers to either.
As far as animal testing is concerned, it should probably be abandoned in the industry as a whole. It's horrible and unnecessary and can, for the most part, be easily replaced with more sophisticated alternative testing.
How do you decide to create a product?
We get our best inspiration from our customers. We ask them for ideas all the time.
Once we have an idea we make sure that we can devise a package that's as pretty as the product and then it's off to the lab!
How has Instagram been in the heart of the development of your business?
It has been so important. It serves as a real time focus group where we can get instant feedback from the customer.
Do you think all brands should be on Instagram in this day and age?
Of course. It's where consumers are going to discover new things. It's as important as your website.
Any Insta recommendations for your readers?
Oh yes! @sarahmcgonagall is an influencer in our neighbourhood who is always amazing with her high tech artistry! @virna_gambini has the prettiest flat lays I have ever seen. For fashion that is affordable/adorable @jennajordan works at Winky Lux and is the resident cute-outfit guru. Finally, the @betches cracks me up every day.
Why do you think Winky Lux got so much success so quickly?
I think women want something fun that celebrates them at a price that's nice. Our products are luxury quality and have packaging that hopefully makes you smile.
Also so many of our products were inspired by ideas from our customers. I think they feel vested in the success of the products they helped create.
What WL product has been the most successful so far?
The Flower Balm and the Peeper Perfect Under Eye Concealer
What is your biggest challenge as an entrepreneur in your everyday life?
Getting enough sleep and eating healthy foods. It's tough when you're on the road so much.
As a real girlboss, what advice would you give to young women wanting to become entrepreneur?
Don't be afraid to start and don't be afraid to fail. You will learn more from the failures than the wins (I have).
Success seems to be more about "time in" than timing. Ask for help,
What advice would you give to a young woman looking for a job? What are the mistakes young women tend to make on their resume or during interviews?
I think there is a recent trend of being afraid to say you don't know something. I get more excited about a candidate that says "I don't know everything about this but I'm curious and I'm prepared to dive in, work hard and learn it" than someone who sort of fakes their knowledge.
Recently I've also seen people come in with salary asks that are far above the salaries listed on the job description. I'm glad that women are starting to ask for more but that's not the way to do it. It makes the candidate seem as if they didn't pay attention or even read the description. Also, always be on time for an interview.
What other brands inspire you?
Jonathan Adler (for their dedication to whimsy), Nike (for their ability to influence culture), Skinny Dip (for their hilarious kitchy voice), Ladurée (for their ability to create magical spaces)
What is the next step for Winky Lux?
We are opening 5 experience stores in the US then hopefully Europe next year!