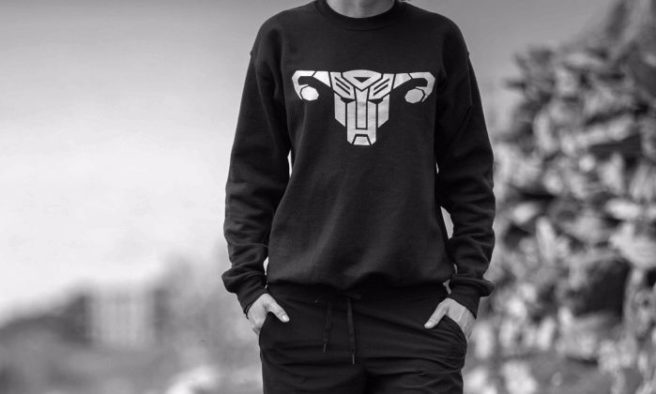 Uterus Prime: The feminist hero repping the Repeal movement
The March for Choice is kicking off next weekend, and while the most important thing is just to show up, we have been considering what we're going to wear.
As well as being there, we want to show our support for the Abortion Rights Campaign by donating to the campaign, and making our pro-choice opinion visible through what we don on the day.
Luckily, there has been a new drop of feminist, pro-choice merch online, and we're all about it.
Uterus Prime was created in September 2016 by Dublin based architect and artist Rae Moore.
The design is being utilised to raise awareness and funds for the Abortion Rights Campaign.
The graphic design has a unique twist on an image of the female reproductive system, combining it with Transformers hero, Optimus Prime.
Uteris Prime fights for women's reporoductive rights, and believes that 'bodily autonomy is the right of all sentient beings.'
The 6th Annual March for Choice, takes place on Saturday the 30th of September, assembling at the Garden of Remembrance on Parnell Square from 1.30pm, before a march on Dáil Éireann at 2pm. (if you can't make it you can catch it on the SHEmazing social media on the day)
If you want to represent your stance through your clothing and want to donate to the Abortion Rights Campaign, these concept conscious pieces are an option.
You can find them online here.