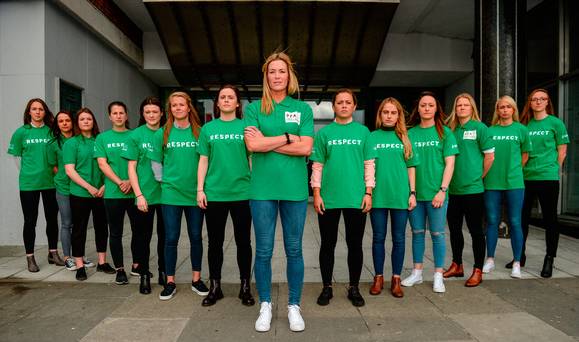 'Unity is a powerful force' Ireland's women's football team strike a deal
With a match against Slovakia scheduled for Monday night, Ireland's senior women's football team would normally have spent this week focusing on game tactics and strategies.
However, preparations came to a halt on Wednesday as the ladies entered into talks with the FAI.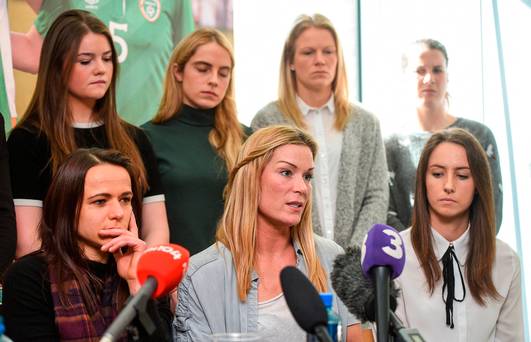 Earlier this week, the squad held a press conference where they highlighted numerous issues and a general lack of professionalism in the national program.
Proper training gear, gym membership and qualification bonuses were just some of the concerns the team wanted to address and it now seems the ladies have managed to strike a deal after nine hours of talks.
16 players, three PFAI representatives, two SIPTU officials, and PFAI General Secretary, Stephen McGuinness, consulted with the representatives from the FAI via a mediator in a Dublin hotel on Wednesday night.
The lengthy talks proved successful for the squad with a financial package, estimated to be in the region of €100,000, agreed upon.
According to The Irish Examiner, the payment of a €300 match fee, additional win and draw bonuses, compensation for loss of earnings and appropriate tracksuits were among the some of the issues addressed in the comprehensive deal.
Long night,tough going-finally both sides came to an agreement!Victory!thank you for all your support.It proves unity is a powerful force

— emma byrne (@emmsb30) April 6, 2017
In a statement, SIPTU's Ethel Buckley, hailed the victory as a "landmark agreement [which] was only possible due to the organisation, bravery and commitment of the national team players.''
She also spoke about what the result meant for gender inequalities in Ireland: "I think this dispute is bigger than football… I think it touched something in the country, even among people who have no interest in football, because it spoke so much to gender relations in the country right now.''
''And it was striking that it was out of football, something which has traditionally been seen as quite a male bastion, that this push came for women's rights generally."
Ireland's ladies were back in business last night, and preparations are in full swing for their clash with Slovakia on Monday.
G'wan girls!