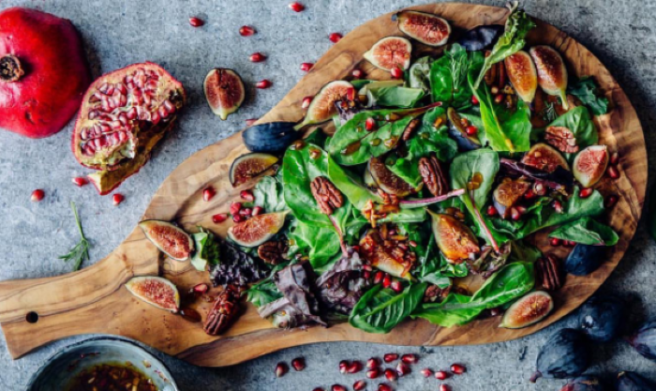 Transitioning to veganism? Here are 8 tips to go purely plant-based
Veganism has become pretty popular these days, with the number of vegans in the UK rising by 360 per cent in the last 10 years, according to a recent study by The Vegan Society.
With this in mind, we're sure there are plenty of Irish people willing to try the vegan lifestyle, which strictly prohibits the consumption of any animal by-products.
Veganism has been cited to improve the health, aid weight loss and be better for the environment than a carnivorous diet according to its followers.
Here are a few tips to get started if you want to give it a try:
8. Watch a few documentaries.
There are plenty of documentaries out there about the reasons for going vegan, and plenty of videos about how to do it efficiently.
Films like Earthlings, Cowspiricy and Vegucated have been credited for turning many people on to the vegan lifestyle.
A warning though, these flicks expose the grim realities of the meat and animal by-product business and may be a bit much for squeamish folk.
7. Order PETA's free vegan guide
Animal rights organisation PETA is a huge promoter of the vegan lifestyle.
They have a free Vegan Starter Kit for those interested, all you have to do is head to the website and give your address, and the kit will be sent out to you anywhere in the world, completely free.
6. Make small swaps
Making small steps like swapping cow's milk for soy or oat milk and switching crisp flavours can take your diet from carnivorous to vegan.
There are tonnes of options to try when it comes to milk and cheese alternatives.
5. Try new things
Speaking of these alternatives, don't be afraid to branch out of your comfort zone and try some new taste experiences.
While almond butter and hemp seeds may not sound the most appetising, trying vegan alternatives is so important in order to maintain a balanced plant-based diet. It's not just about eating salad!
4. Consider why you're doing it.
There are people who move to veganism for ethical reasons, those who do it for health reasons and those who do it to lose weight.
Having a clear motive for your transition will make sticking to it so much easier.
3. Ditch dairy.
People cite the amazing benefits of minimising their dairy intake.
Ditching dairy is a prerequisite for the vegan diet, but it can also help clear the skin and put an end to bloating.
2. Consider your non-food choices.
A lot of people who choose veganism for ethical reasons look further than their diet when it comes to incorporating the message into their everyday lives.
Some avoid leather or products made at the expense of any animal, and actively avoid beauty products that test on animals or include animal by-products.
1. Keep an eye on the carbs.
When going vegan or even vegetarian, it can be easy to rely on pure carbs to keep yourself going if you haven't taken the time to look into new food choices.
This can leave your plates looking pretty beige, so make sure you're getting plenty of variety into your diet.
Feature image: Instagram/ Vegan Food Spot/ Lumadeline