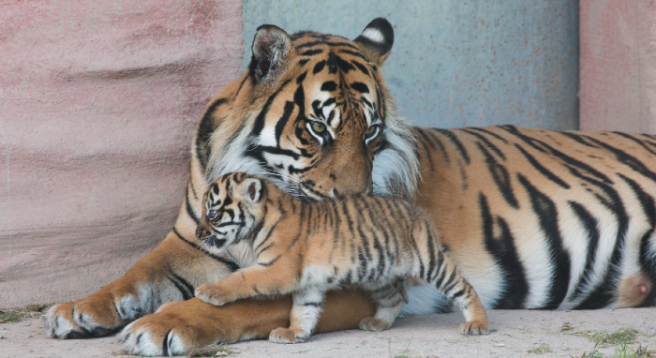 The world's most threatened species of tiger has a new member
A little tiger cub has been born in Fota Wildlife Park.
The Sumatran Tiger is the most threatened species of tiger in the world, so we're only delighted a new addition was born in Cork.
In the birth announcement, Fota Wildlife Park explained that the cub is one of the rarest subspecies of tiger in the world and classified as critically endangered by the International Union for Conservation of Nature (IUCN) since 2008.
#FotaWildlife Delighted to announce this today #FotaCub: https://t.co/EhazP79cK9 pic.twitter.com/sNKmnmKysg

— Fota Wildlife Park (@fotawildlife) June 22, 2017
The baby tiger has not been named yet, and the park is asking members of the public to submit suggestions.
He was born last month to first-time parents; Dourga and Denar, who are both five-years-old.
The park is asking for the public to suggest a name beginning with the letter 'D', which you can suggest on the Fota Wildlife website.
The person who suggests the chosen name will be in with a chance to win a year-long Conservation Membership to Fota Wildlife Park.
Good luck!