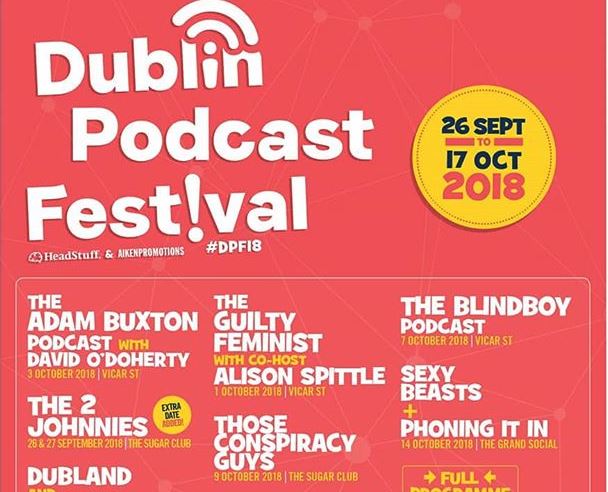 The Dublin Podcast Festival is happening and the line-up is unreal
If you're anything like us, you love nothing more than a good podcast.
So what better way to check out your favourites or discover new ones?
Dublin Podcast Festival is back by popular demand and it's right up our street.
Running from 26th September 17th October, our fair city will play host to live podcasts, workshops and headliner shows with some very cool acts across multiple venues.
BACK BY POPULAR DEMAND!!!

We are thrilled to announce the return of the @DublinPodFest running throughout Dublin from 26th September – 17th October. Check out your favourite podcasts or discover some brand new favourites – and not a pair of headphones in sight! #DPF18 pic.twitter.com/DsfjTYje08

— Dublin Podcast Fest (@DublinPodFest) July 12, 2018
The incredible line-up features international and homegrown podcasters, discussing everything from food to music to literature to football, film, comedy and much more.
One of the unmissable shows is The Guilty Feminist.
Deborah Frances-White and co-host for the night Alison Spittle will be live at Vicar Street, 1st October, talking about the noble goals of 21st century feminists and the insecurities which undermine them.
We like the sound of that.
Another one not to miss out on is the Blindboy Podcast in Vicar Street on 7th October.
The Podcast does not only indoctrinate mental health issues but reaches further into a wide spectrum of current topics, may it be gun laws, feminism, racism or a bit of history. BlindBoy has it covered!
I think we're all aware about the phenomenal rise of the podcast as a form of both entertainment and education.
This will be the second year of teh festival and it looks set to just keep on growing, celebrating the podcasting world and connecting fans with the people who make them.
Some of the events include:
Sexy Beasts + Phoning It In
The Grand Social – 14 October 2018. Tickets €16 from Ticketmaster.
Banter 200 with Jim Carroll
The Workmans Club – 17th October 2018. Tickets: TBC.
The Blindboy Podcast
Vicar Street – 7th October 2018. €28 from Ticketmaster.
Those Conspiracy Guys
The Sugar Club – 9th October 2018. Tickets €18 from Ticketmaster.
So what are you waiting for?
Go grab some tix when they go on sale Monday, 16th July at 9am from www.ticketmaster.ie and outlets nationwide.