So, picture this. It is New York City on New Year's Eve, 1979. Everyone who is anyone has rocked up to infamous nightclub of the stars Studio 54. Frequented by Michael Jackson, Diane Von Furstenberg and Andy Warhol, it was THE only place to be seen on the weekend.
This New Year's Eve party was packed to the rafters and as the clock struck midnight, four TONNES of glitter was dropped onto the dance floor as guests shimmied their way into 1980. For months after the now historic event, if you spotted a few flecks of glitter on the collar of your brunching partner, you knew exactly where they spent their NYE.
Here we have proof, ladies and gents, that glitter is NOT just for kids. YAY.
Don't be afraid to add a little sparkle to your makeup looks this holiday season in a slightly less messy (but equally as glamorous) manner.
1) Make glitter your focal point
Whether it is your eyes, your lips or even perhaps your hair (yep, glitter in hair is officially a thing), make one of these the focal point for your glitter obsession. By applying glitter heavily to the eye area, for example, it is important to leave the lips clean and fresh perhaps with just a light gloss. Glitter is intense to wear so try not to go overboard!
2) Use eyelash glue as adhesive
Eyelash glue is the ideal tool to apply glitter to your face and to make sure it lasts the entire night. Spread some adhesive on a smooth surface and use a tweezers to dip individual specs of glitter into the glue and apply any way you like. The more sparkle the better.
3) Play with colour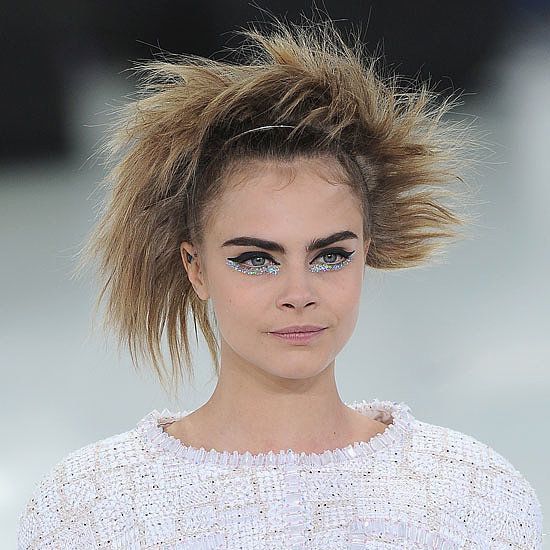 When people think glitter, they tend to think silver and gold immediately but this sparkly stuff comes in all different colours. Choose shades that compliment your make up look or highlights accents in your outfit. Looking this good means planning, ya'll.
4) Get Creative
Glitter does not have to dominate your look. Apply shadows and use specs of glitter to add some interest to the eye. Play around with different designs such as a cluster on the outer lid or a strip underneath the lash line. Cute!
5) If actual glitter ain't your thing, opt for intense shimmer
Okay, we get that actual glitter might be a bit too much for some but that does not mean you shouldn't sparkle. Shimmering eye shadows are a super popular way to add that eye opening glisten to the face without actually sticking glitter on it.
So indulge in a super shimmery shadow and apply to the entire eye lid crease. Remember darker shades create striking shadows to the outer corners of the eyes and white or nude shades open the eyes when applied to the inner corners.