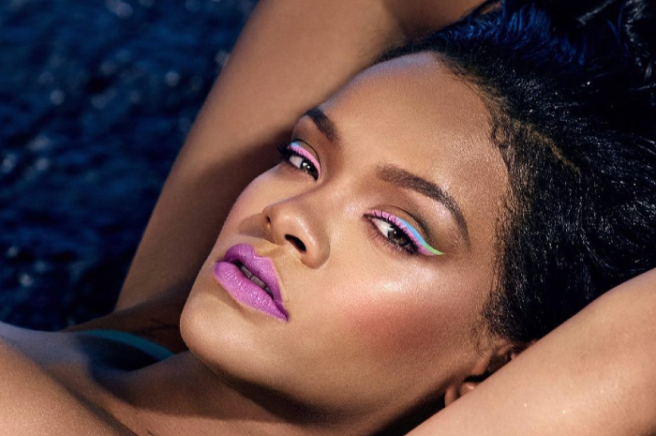 Our summer is officially made. Why? We have three words: Bad Gal RiRi.
The singer and Fenty Beauty mogul graced the cover of Harper's Bazaar, looking absolutely fierce and sporting some striking neon eye makeup.
Since she's the head of a cult beauty empire and loves the look, why not bring it to your product repertoire? Rihanna's a generous soul.
Fenty Beauty have now confirmed that the neon shades we crave oh so much will be released in the form of a limited edition collection: 'Getting Hotter'.
The collection consists of three sets of eyeliner triplets called Baecae, Baeside and Baewatch. There are nine shades in total, and cost roughly €32 each.
Fenty Beauty are ALSO releasing seven new lipsticks in vivid tones named Poutsickles, coming in at about €18 each.
Fenty Beauty's Instagram page describes the eyeliners as makeip with "soft neon effects that glide on in one easy stroke", while the lipsticks are created with a "juicy satin finish." We'll take the lot.
The Tropic Tantrum shade was worn by the founder in London when she celebrated the Sun Stalk'r Bronzer launch, and the shade was used to create her eye finish on the May cover of Harper's Bazaar.
Purpsickle, Sun Snatched and Motor Boat were also used, with damn good results.
They'll be perfect fashion material for Ireland's summer music festivals like Forbidden Fruit, Sea Sessions, Longitude and Electric Picnic.
"When is it released?" we hear you shout. The 'Getting Hotter' collection drops on May 10, grab it on the Harvey Nichols website and at fentybeauty.com.
Feature image: Instagram/@fentybeauty