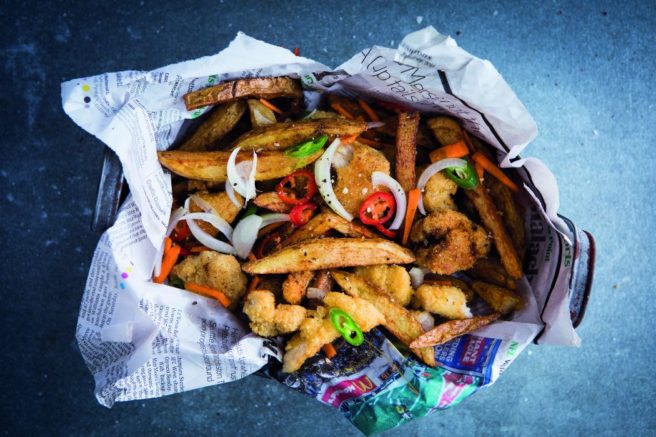 There is nothing traditional (or healthy) in a spice bag, but we can't help but love them. Along with pizza and burgers, this tasty dish is among our favourite takeaway options.
With his book Fakeaway, Chef Adrian shares his own version of some takeaway classic so we can enjoy them without the guilt.
Chef Adrian's version of the spice bag uncovers the whole truth about what goes in this dish – but it's much healthier than the original…
THE SPICE BAG
"The latest trendy thing to eat across Ireland is the spice bag. It's sold in Chinese takeaways, but was invented in Ireland. With this dish, it's all about the spice mixture. Here's my version."
Serves 2
2 chicken breasts, sliced into small strips
2 eggs, beaten
½ teaspoon cumin
200g ground almonds
1 teaspoon coconut oil
Sliced red and green chilli (optional)
For the chips
4 medium-sized Maris Piper potatoes, washed
2 sprigs of rosemary, chopped
1 onion, sliced
1 tablespoon coconut oil, melted
For the spice
2 good pinches of sea salt
1 tablespoon Chinese five spice
½ teaspoon garlic powder
½ teaspoon chilli powder
1. Preheat the oven to 200ºC/400ºF/gas mark 6.
2. To make the chips, slice the potatoes to whatever thickness you like. Sprinkle with the chopped rosemary and sliced onion, coat with the coconut oil and bake for 35–40 minutes. Make sure you mix all the ingredients with your hands before cooking. If your tray isn't non-stick, use some greaseproof or parchment paper.
3. To prepare the chicken, place the strips into the beaten egg. In a separate bowl mix the cumin and ground almonds, then place the chicken strips into the mixture, ensuring they are fully coated. If you find they aren't fully coated, go back and dip into the egg and then back into the ground almond mix once more.
4. Place the chicken onto a baking tray, put it in the oven and bake for 20–30 minutes.
5. Mix the spices together in a small bowl. Once cooked, combine the chicken and chips and then from a height sprinkle the spice mix over them, making sure to coat both the chicken and chips.
6. I recommend serving this in a bag or wrapped up in some newspaper, with a sprinkling of red and green sliced chilli.