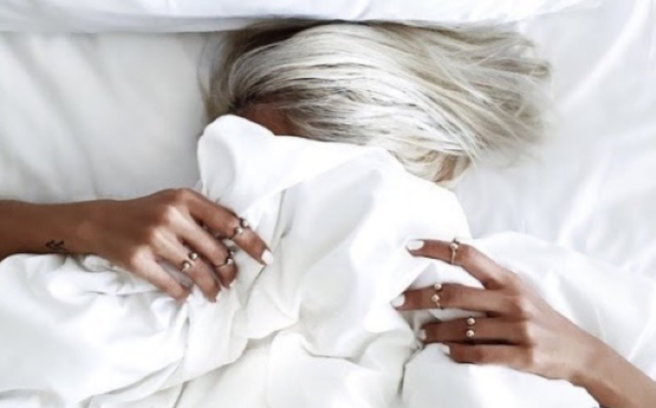 We've all heard that sleeping on silk pillowcases is good for you, whether it's from your granny, mum or favourite Instagram influencer.
We could do with some beauty sleep as the mid-week slump is hitting us hard, so we brushed up on some of the best benefits of sleeping on silk.
1. Anti-ageing purposes
Ever wake up with a crumpled complexion thanks to your cotton pillows? Silk can prevent those unsightly red ridges that can appear from sleeping on creased bedding.
Having less stress and creasing on your skin can help to prevent the deepening and acceleration of wrinkles.
2. Save that skin
'If you're prone to breakouts, whether it's because of hormones, genetics or stress, (pillowcases) can exacerbate an already delicate situation and cause micro-irritation,' Ellen Clark, the founder and president of Control Corrective Skincare Systems told The Huffington Post.
This can happen regardless of the material of your pillow, but for those with breakouts already, the lack of friction in silk can help prevent further irritation, and the cool temperature of silk can give some momentary relief to hot, irritable skin.
3. De-frizz that bed head
'Cotton is a material meant to absorb moisture, and it will do just that to your hair,' hair stylist Ali Batista told In The Style.
'Hairstyles that lack moisture tend to appear frizzy, lifeless, and more prone to static.'
'Silk is a material that will allow hair to slide around more smoothly so you will have less breakage, and no more bed-head.'
4. Tangle teaser
As well as minimising frizz, the lack of friction can also prevent tangles in your hair.
If you are one to wake up with a bird's nest of tangles on the back of your head, a silk pillow could definitely help rectify the issue.
5. Hypoallergenic is better
Silk pillows are hypoallergenic, so better for your overall health whether you suffer from allergies or not.
Hypoallergenic pillows minimise the risk of dust mites and other nasty bedding nuisances.
Pass us the silk pillowcase please!