Make sure to hurry up and book that last minute holiday to Spain, Bali, or wherever you can soak up the last bits of summer sunshine.
It seems the Ryanair strikes are finally over!
Which means we can finally fly somewhere without the possibility of cancelled flights looming over us.
Yesterday, after months of pilots' disputes, the airline company reached an agreement with the trade union Fórsa, according to The Irish Times.
But it wasn't easy for the two parties to find a settlement that satisfied the union pilots and the low-cost airline.
It took long nights, copious amounts of caffeine, and compromise from both sides.
And finally, after 22 hours of negotiation from Wednesday to Thursday morning, they found a way to end the ongoing disputes.
Ryanair pilots 'reach deal to end strike' https://t.co/VEUPDAXmB7 #Aerospace #aviation #airlines #RyanAir #unions #pilots #travel #travelers #travellers #Ireland #EU #strikes #economy

— Chuck Dalldorf (@ChuckDalldorf) August 23, 2018
The verbal deal is not quite set in stone yet, for it is set to go to ballot where it will be voted on by about 100 Dublin-based, Ryanair pilots.
Nevertheless, the company seems confident the agreement will be passed as it will be backed by both the pilots and Fórsa representatives.
Due to the pilots' hectic travel schedule, the ballot is predicted to take two weeks to organise.
Both Ryanair and Fórsa have been instructed not to discuss the details of the reached proposal until the ballot is over.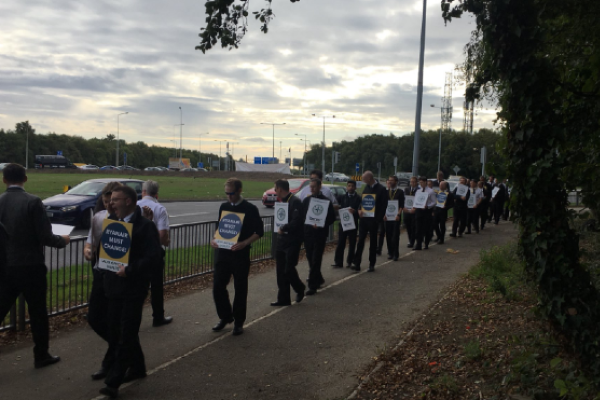 The Ryanair strikes have resulted in five days of strike action by about 100 Dublin-based pilots.
Ryanair pilots in Germany, Ireland, Sweden, Belgium and the Netherlands also took part in the strikes, resulting in the largest walkout for the airline ever.
We are so glad that an agreement has been reached that works for both the pilots and the airline.
Now, we can book those last minute holidays and enjoy the little while of summer we have left.