Foodie bloggers have become part and parcel of Instagram life.
If you want to know what a restaurant is like, the reality is that you''ll head to the location tag on Instagram or Twitter and have a sneak preview of what's on offer before committing to a lunch date.
Amanda Holtz, the brain child behind Yummy Dublin, was inspired by this concept when she set up her now hugely popular and ever growing foodie 'gram .
Yummy Dublin has taken off massively, and so when I meet up with the American student-turned cuisine connoisseur, we are heading to an exclusive menu pre-tasting at Michelin starred Dublin restaurant Pichet.
Pichet was playing host to world renowned chef George Casey, as part of their Friends of Pichet guest chef concept, who is back in Dublin to run his elite catering business after travelling the world exploring all of the flavours Australia has to offer.
Over a first course of 48 hour marinated and cooked lamb rib, Amanda, along with her equally gourmet gifted boyfriend Aidan, gave me an insight into her inspirations for her foodie blog.
"When I would go out to dinner, I'd always look up the restaurant's food Instagram because I'm a visual person, I think most people are, so it's a way to literally see what's available," she said, leaning over to get the ideal shot of the beautifully presented lamb.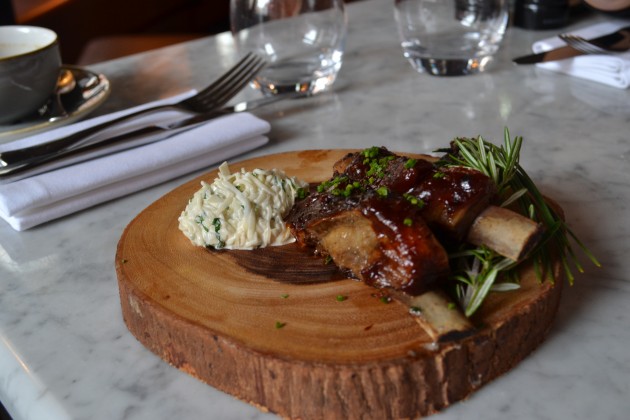 "The rib was so tender that when we picked up the rib, the meat fell completely off the bone, and paired perfectly with a mint Kohlrabi slaw, making the best lamb and mint combination I've ever tasted," said Amanda, showcasing her truly foodie palette.
On the topic of presentation, I wanted to know what the essentials are whe it comes to creating the perfect picture of food.
Yummy Dublin is awash with perfectly seasoned chips, painstakingly arranged desserts and well lit street food, and every single picture makes your stomach growl.
"Presentation is part of the fun of going out to eat. Lighting is key," she said, using her iPhone flashlight to illuminate our next course.
"My Mom and my boyfriend always get so embarrassed because they think everyone is looking when I'm standing up taking food photos and using the light on my phone to get the best look for the food. Maybe people are looking but I choose not to notice."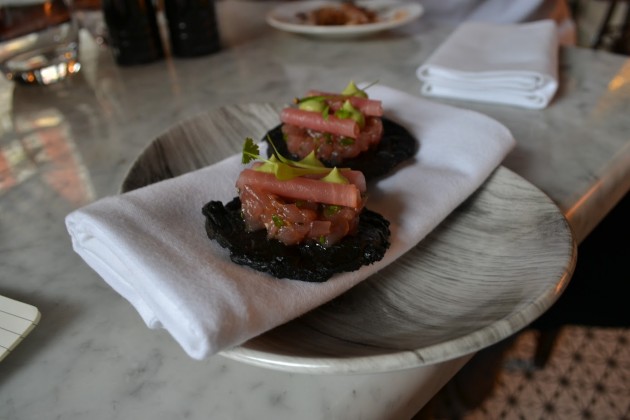 Next up came the tuna tartare crackers. Yummy Dublin's thoughts?
"The black squid ink cracker, made these look like artwork. They looked fab and tasted every better. I grew up living a fave minute walk to the beach, so trust me when I say, I know my fish. This tuna was so fresh and the combination was light and delicious."
"The fish course for the pop-up is a Langoustine with fennel, diakon and pomelo. Chef George made a vegetarian version for us, with avocado instead of lanoustine, and a tomato oil drizzle. The flavours!"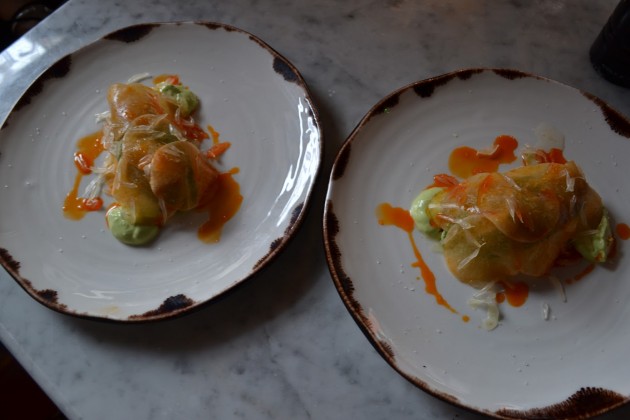 "We were just looking up last night where we were going to go on Valentines Day," said Amanda, nodding to boyfriend Aidan as he helped her adjust the lighting for her shots of the avocado dish.
"The Bank was an option, the clue is in the name but it's an old bank that's been turned into a restaurant. As far as scenery goes it's so cool, it's definitely Instagram worthy. They have big sharing plates so it's ideal for couples."
"Featherblade is where were actually going, we just booked our reservation last night, just because the boyfriend is such a steak lover but I think that most guys are. Also the price point is reasonable."
"There's only three main courses, but those are the places that you know they're really good because if they only have a couple of things that they specialise in then you know it's going to be amazing."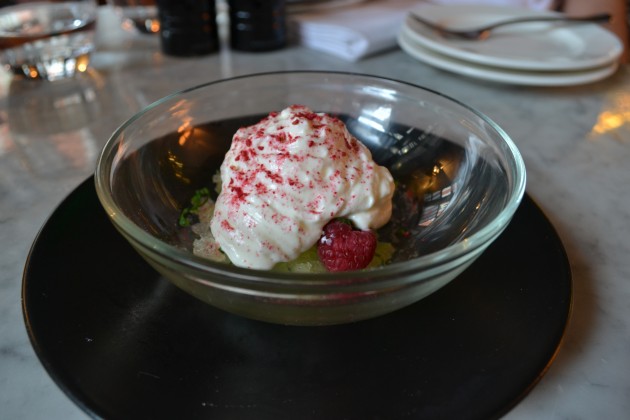 Chef George was on hand to deliver the last course of the evening, a fancy AF dessert of celery granata, raspberries and yoghurt.
"Usually I'm a chocolate girl, so this wouldn't be something i usually order, but it was fantastic. This was a perfect palate cleanser for a seven course meal," said Amanda.
Chef George Casey is heading up the seven course spread pop-up at Pichet this Sunday, January 29, in a one-night-only event that any foodie lover worth their pink Himalayan salt already has tickets for.