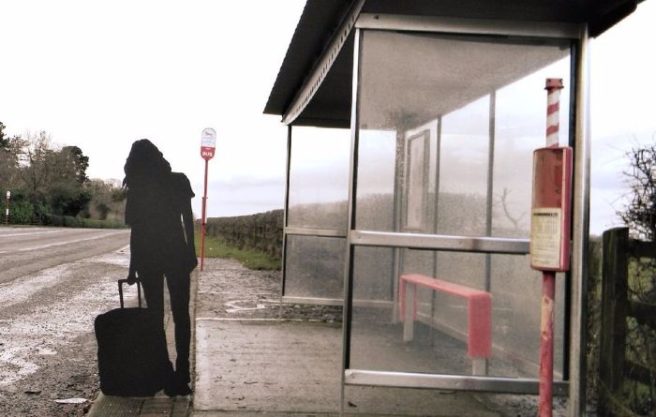 Noticed some shadowy figures lurking around Dublin over the weekend?
The shadows are part of a street art installation by artist Will St Leger, which finished up in the country's capitol on Saturday.
The shadowy silhouettes and their suitcases are being erected to represent the thousands of women who are forced to travel abroad every year to seek abortions outside of Ireland.
Day two of 'Out of the Shadows' street art tour – Another day, at least another 10 women will travel to UK #repealthe8th #OutoftheShadows pic.twitter.com/qsWr4iFcsv

— Will St Leger (@WillStLeger) January 4, 2017
"Life-size silhouettes representing women will be placed in various locations across the country to visually symbolise the fact that, on average 10 women and girls are forced to leave Ireland every day to access abortion services aboard,' said the artist of the project.
The project is supported by the Repeal project, the Abortion Rights campaign and Amnesty International.
Powerful piece 'Out of the Shadows' by @WillStLeger in Dublin today having travelled the country #repealthe8th #OutOfTheShadows pic.twitter.com/kdIMls7MIf

— Brona Mac Entee (@BronaMacEntee) January 8, 2017
"Every year, at least 4,000 women are forced to travel outside of Ireland to access abortion services," said the artist, in a post on his professional blog.
"This refers to the number of women who give Irish addresses. The real figure, which doesn't account for women travelling to other countries or purchasing abortion pills online, could be much higher."
This one is for the woman of Ireland! We're supporting @WillStLeger and his #OutoftheShadows exhibition. #Repealthe8th pic.twitter.com/01IaDhLESF

— Aungier Danger (@AungierDanger) January 9, 2017
The silhouettes were placed on Rosie Hackett Bridge at the weekend after visiting Mayo, Sligo, Leitrim and Meath over the past week.
"This project will build on the progress made by Abortion Rights Campaign regional groups and other local and community groups. It will continue expanding the dialogue on the urgent need for a referendum to repeal the Eighth Amendment," said Tarry Gleason, an Abortion Rights Campaign spokesperson.
Even Aungier Danger supported the cause, creating a doughnut "for the women of Ireland."