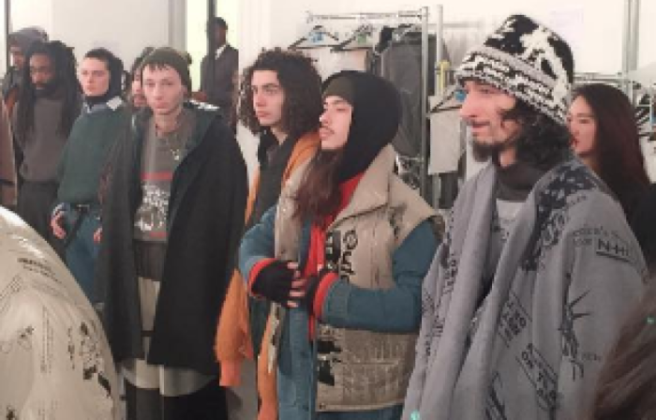 We all know that homelessness is a major crisis in Ireland, and apparently people sleeping on freezing streets is inspirational for one fashion designer.
New York Fashion Week: Men is currently underway, and N.Hoolywood, a Japanese brand, is facing serious backlash after their show.
The range commended the homeless for their inventiveness in how they dress, using blankets and sleeping bags as coats and plastic bags to protect shoes from water damage.
"As our designer travelled the cities of America, he witnessed the various ways in which people there lived on the streets and the knowledge they have acquired while doing so," said notes at the show according to Cosmo.
"His observations of these so-called homeless or street people revealed them to be full of clever ideas for covering the necessities of life."
The models appeared on the runway touting black plastic rubbish bags, with extra garments artfully draped an tied over their shoulders.
The clothes were oversized, highlighting the issue that homeless people have acquiring well fitting garments.
The slogan "Outdoors, Be safe, Survive" was emblazoned on coats and plastic bags.
Advocates for the homeless and fashion critics alike have labelled the show "tasteless," "tone-deaf" and "insensitive."
"Hopefully,the proceeds from the sale of this collection will go to initiatives benefiting the homeless youth who inspired it," said one, though N. Hoollywood have not said that the sale of any of the items will go towards supporting homelessness services.
ew a Japanese fashion designer used "American homeless people" as "inspiration" for his latest collection, it's quite appalling

— protect youngjae (@ohmykaxla) February 1, 2017
It's all a bit too close to Zoolander territory for us.